circa 1950
Trip to Colorado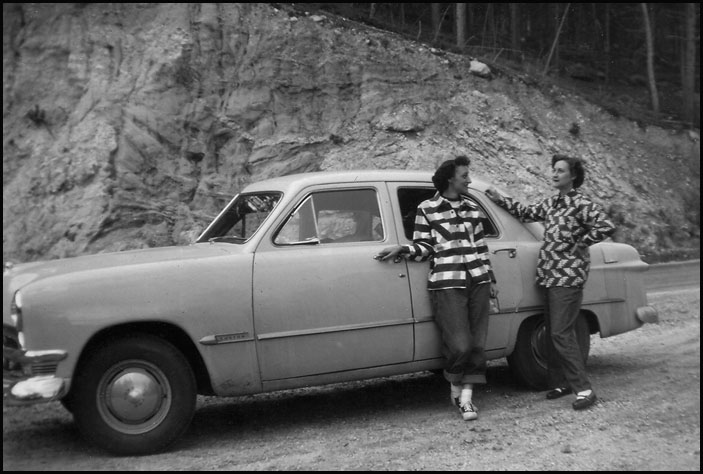 Lillian and Helena "Lea" Barkmeier
---
Obituary
Helena "Lea" Cecilia Barkmeier
Exeter, Nebraska - July 16, 2002
---
Helena "Lea" Cecilia Barkmeier was born on November 30, 1909 at Exeter, Nebraska to Anna Barbara Menke Barkmeier and August Frank Barkmeier. She was one of eight children. She spent most of her life in Exeter with the exception of a few years in Long Beach, California.
She attended St. Stephen's Catholic grade school and was a graduate of Exeter High School in 1928. Most of her adult life was spent as a clerk at Barkmeier's Store in the dry goods department. She enjoyed her association with her many customers. Lea was an avid card and bingo player. She also enjoyed watching and rooting for the Chicago Cubs baseball team. Her nieces and nephews were a source of pride and she enjoyed entertaining them.
Lea and her sister Lillian lived with and cared for their parents. Following Lillian's death, Lea continued to live in the family home until her failing health caused her to move to the Exeter Care Center in November 1997.
She passed away at the Exeter Care Center on July 13, 2002 at the age of 92 years, 7 months and 13 days. She was preceded in death by her parents, August F. and Anna B. Barkmeier; her brothers Louis F., Walter H., Vincent A. and Raymond J. Barkmeier; sisters, Ella M. Morgan, Rose F. Alldrett Lilly and Lillian Barkmeier.
She is survived by sister-in-law, Alice Barkmeier, widow of Raymond; nieces and nephews.
Funeral services were held at St. Stephen's Catholic Church in Exeter, Nebraska on Tuesday, July 16, 2002 with Father Kenneth Borowiak officiating. Roger Johnson Jr. served as acolyte, Rebecca Votipka as lector and Keegan Johnson and Richard Votipka were altar boys. Abby Kovanda accompanied by Agnes Anderson sang "The Lords Prayer", "Amazing Grace", "How Great Thou Art" and "Here I Am Lord". Casket bearers were Wayne Barkmeier, William Morgan, James Barkmeier, Jerald Barkmeier, Jeffrey Barkmeier and David Barkmeier. Interment was in the Exeter Cemetery with Farmer Funeral Home in charge of arrangements.
---
90th Birthday Celebration
(November 1999)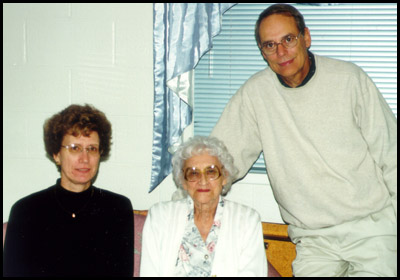 Left to Right:
Wilma V. (Barkmeier) Miles, Helena "Lea" C. Barkmeier
and Wayne W. Barkmeier
---