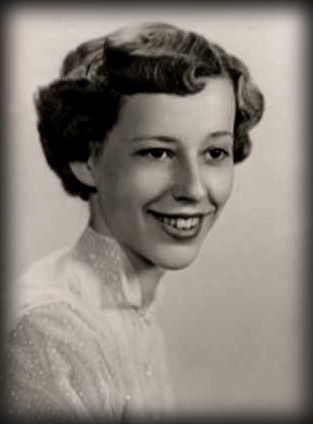 Barbara Joan Barkmeier
High School Graduation
Exeter, Nebraska
1954
---
BARKMEIER - HEFFELFINGER
The marriage of Miss Barbara Joan Barkmeier, daughter of Mr. and Mrs. Louis F. Barkmeier of Exeter and Gail Eugene Heffelfinger, son of Mr. and Mrs. Robert L. Heffelfinger of Lincoln, was solemnized in a 11 a.m. July 17th ceremony at St. Stephen's Catholic Church. Rt. Rev. Msgr. H. H. Ingenhorst officiated at the double ring ceremony before the altar decorated with tall baskets of pink and white gladiolas.
Miss Connie Vavra, soloist, sang the "Ave Maria" and "The Lord's Prayer". She was accompanied by Mrs. Jerome Harre, organist, who also played the nuptial music.
The bride, given in marriage by her father, appeared in a white gown of re-embroidered Venice lace and silk mist organza. The fitted bodice neckline was complimented by a bouffant skirt of silk organza.
Her tiered illusion veil was held by an organza bow. She carried a colonial bouquet of pink roses from which cascaded streamers of pink rose buds.
The bride's attendant was her sister, Mrs. Roger Johnson. She was gowned in pink brocade and wore a matching head band with halo veil. Her colonial bouquet was of pink and white carnations.
Mr. Robert E. Heffelfinger, also a brother of the bridegroom, ushered.
A reception and buffet luncheon was held at the home of the bride's parents, following the ceremony. Mrs. John Morgan and Mrs. Walter Barkmeier were co-hostesses at the reception. Mrs. James W. Baker of Lincoln registered the guests and Mrs. Robert E. Heffelfinger had charge of the gifts.
After a wedding trip to Colorado, the couple will be at home at 819½ First Avenue, Plattsmouth, Nebraska, where both are teachers at Plattsmouth High School. Mr. and Mrs. Heffelfinger are graduates of the University of Nebraska, where she is affiliated with Alpha Chi Omega sorority and Phi Upsilon Omicron honorary. Mr. Heffelfinger is a member of Phi Epsilon Kappa.
Fillmore County News
Exeter, Nebraska
August 3, 1961
---