High School Graduation
Exeter, Nebraska
Roger Dean Johnson
1956

Jane Suzanne Barkmeier
1957
---
BARKMEIER - JOHNSON
In a ceremony solemnized at St. Stephen's Catholic Church at 1:00 p.m., Saturday, October 25th, Miss Suzanne Barkmeier, daughter of Mr. and Mrs. Louis Barkmeier, became the bride of Roger Dean Johnson, son of Mr. and Mrs. Emory Johnson. Msgr. Ingenhorst officiated at the double ring ceremony.
Nuptial music, with Mrs. Jerome Harre at the organ, was by Frank Tauriella who sang Ave Maria and Mrs. Frank Tauriella who sang Pania Angelicus.
The bride appeared in a gown of clipped French Chantilly lace and nylon tulle over satin, which was fashioned with a scalloped lace Sabrina neckline. The voluminous skirt featured alternating tiers of lace and tulle which swept to a whisper train. A demi-hat of seed pearls and iridescent sequins held her fingertip veil of illusion. She carried a crescent bouquet of white roses.
Miss Barbara Barkmeier attended her sister as maid of honor. Bridesmaids were the Misses Connie Farmer, Judy McCabe and Marilyn Johnson, sister of the bridegroom. The attendants wore identically styled bouffant gowns with bustles in shades of gold, copper and bronze in satin lace. Matching mitts and hats complimented their attire. Their bouquets were crescent arrangements of bronze mums.
Marsha Votipka, in a bouffant yellow taffeta dress, served as flower girl. She carried a white basket of chrysanthemums.
Serving as best man was Dennis Hackbart of Seward. Robert Scott of Friend, Dale Anderson of Milford and Clifford Radford of Seward were groomsmen. Wayne Barkmeier and Gary Rasmussen ushered.
A reception, served by a committee of the Catholic PTA, with Mrs. Leo Murphy in charge, was held at the American Legion Club following the ceremony. Mrs. Walter Barkmeier was the reception hostess. Mrs. Bernard Rasmussen cut and served the cake, Mrs. Guy Phelps poured and Mrs. Harve Johnson served the punch. Sharon Dawson, Janice Engel, Susan Rouch and Sharon Buell assisted with the serving.
Mrs. Don Peterson was in charge of the guest book. The Misses Janet Becker and Lillian Barkmeier arranged the gifts.
A wedding dance, to which the public was invited, was held at the Legion Hall the evening of the ceremony.
The couple are spending their honeymoon in the Ozarks.
The bride attended the University of Nebraska where she was a member of Alpha Chi Omega sorority.
Fillmore County News
Exeter, Nebraska
October 30, 1958
---
---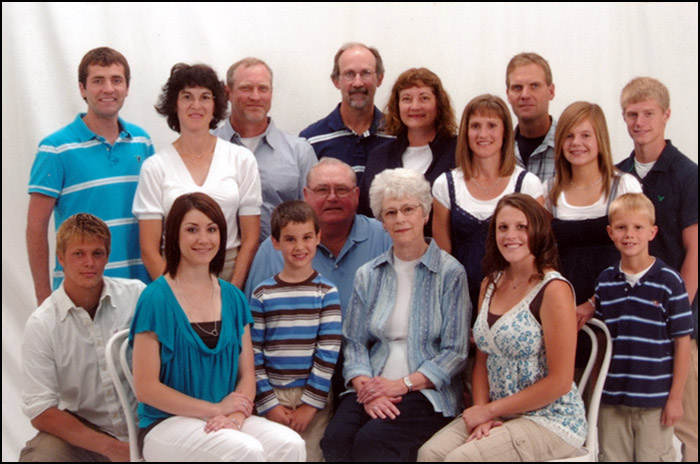 Family of Roger and Suzanne Johnson

2008