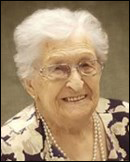 Obituary
Arleta Mae (Kirsch) Barkmeyer
---
Arleta Mae Barkmeyer, 90, beloved mother, grandmother, sister, aunt and friend, was united with her Lord and Savior on May 30, 2018. She was born in Stayton, Oregon to Ira and Alma (Nendel) Kirsch on December 10, 1927. She was known as "Auntie Sis" and "Skeeter" to her family and friends and was the second oldest child of six children. She grew up in the family owned Crabtree Lumber Company lumber camp on the Little North Fork of the Santiam River. When her family sold the lumber company, they moved to a farm in Mehama where she attended a two-room school. She had many interesting stories of growing up during the Depression. When WWII broke out, she became a proud volunteer for the US government. At age 16 she walked from Mehama to Lyons to work her shifts in a spotting tower searching for enemy aircraft.
On September 15th, 1948 she married Henry "Bud" Barkmeyer. They bought a 289-acre farm in the Scio-Jordan area where they raised their children, cattle and grass seed. The farm was a family affair, everyone doing their part. Arleta worked in the fields and on the farm whenever needed. Bud and Arleta were married 55 years, until his death in 2003.
At about age 45, Arleta started playing Community Softball in Stayton. Not only did she love softball, she was very good at it. Arleta was an extremely resourceful woman, and what she didn't know, she taught herself. She was able to change tires, oil, and fix small and large appliances. Arleta loved gardening, embroidery, painting, hunting, fishing, her chickens and canary, and she made the best pies in the State of Oregon! It was some time after the youngest child started school, Arleta went to work at the Rutherfords and Western Auto in Stayton and retired from Ace Hardware in Mehama.
She is survived by her seven children: LaDonna (James) Pollard, Rosina Pietrok, Lorena (Larry) Lindemann, John (Sherry) Barkmeyer, Debra (Scott) Humphreys, Patricia (Clay) Barkmeyer-Thompson, and Mary Ann Stadeli. Preceding Arleta in death was her husband Bud, granddaughter Jody Barkmeyer, grandson Gary Pietrok, her parents Ira and Alma Kirsch, Peter and Pauline Barkmeyer, and her beloved older brother Lawrence Kirsch who was killed in action in WWII. She missed, honored and mourned him every day of her life. She leaves behind 17 grandchildren, 30 great-grandchildren and 3 great-great grandchildren. She adored her family above all else and will be greatly missed.
Viewing was at North Santiam Funeral Service on Monday, June 4th, 6-8 PM. Rosary was on Tuesday evening, June 5th, 7 PM and Mass of Christian Burial was Wednesday, June 6th, 12 noon, both at Immaculate Conception Church in Stayton, where she was a member, with a reception following in the Church Parish Hall. Serving the family, North Santiam Funeral Service, Stayton, Oregon.
Statesman Journal
June 3, 2018