Obituary
George Becker
---
George Becker, son of John and Mary Kremer Becker was born March 4, 1988, at Exeter, Nebraska. October 26, 1962, he entered Warren Memorial Hospital at Friend and following an extended illness, he passed away February 28, 1963 at the age of 74 years, 11 months and 26 days.
He grew to manhood in the Exeter community, where he farmed prior to entering the United States Army in World War I. Mr. Becker was inducted at Fort Riley, Kansas, September 21, 1917, and served as a cook in Company B, 214th Infantry, until he returned to the States on May 24, 1919. He received his discharge at Fort Dodge, Iowa.
March 28, 1922, he was united in marriage to Anna M. Franzen in St. Leo Chapel in New York City, New York. They farmed near Exeter until 1935, when they moved to town. He then worked for the railroad and retired in 1955.
George was a member of St. Stephen's Catholic Church, were he was always faithful in his attendance and in the activities of the church. The strength of his faith sustained him during the months of his illness.
Funeral services, under the direction of the Farmer Funeral Home, were held Saturday, March 2, in St. Stephens's Church in Exeter with Msgr. H. H. Ingenhorst officiating a Requiem Mass.
Pallbearers were World War I veterans, John Burns, Paul Becker, J. E. Mitchell, William Wilger, William Due and James Biba. Interment was in the Exeter Cemetery with the American Legion assisting in the burial rites.
He is survived by his wife Anna; daughters, Mrs. Gene Strotman of Aurora, Mrs. Justus Dobesh of Aurora; two sons-in-law; three grandchildren; a brother Joseph of Exeter; three sisters, Mrs. Herbert Jansen of O'Neill, Mrs. Minnie Dumpert of Exeter, Mrs. Josephine Judge of Atkinson; other relatives, and a host of friends. He was preceded in death by his parents, five brothers and three sisters.
Relatives and friends from out of town attending the funeral were Rev. Pozeckowski of Aurora, Mr. and Mrs. Fred Strotman, Mr. and Mrs. Joe Strotman Sr. and Mr. and Mrs. Joe Strotman Jr., all of Aurora.; Mr.. and Mrs. Ernst Dobesh of Wood River, Mrs. Mary Hansen of O'Neill, Mrs. Josephine Judge of Atkinson, Mr. and Mrs. Gilbert Winchell of O'Neill, Mr. and Mrs. Charles Geiger and Mr. and Mrs. Gerald Geiger, all of Utica, Mr. and Mrs. John Burns of Friend and Mr. and Mrs. Nick Rice of Scribner, Mr. and Mrs. Henry Reinsch of Geneva Mrs. Frank Kirkpatrick of Bradshaw and Mrs. Edith Emanuel of North Bend.

Fillmore County News
Exeter, Nebraska
March 7, 1963
---
Obituary
Anna Marie Franzen Becker
---
Anna Franzen Becker was born in Bitburg, Germany on June 6, 1893, and passed away unexpectedly at her home in Exeter, on July 25, at the age of 83 years. Her parents were Jacob and Elizabeth Franzen.
She came to the United States in 1922, and was united in marriage to George Becker March 28 in the Chapel at the Leo House in New York City at which time she became an American citizen.
They lived on a farm north of Exeter until 1935, when they moved to town and purchased the home where she resided until her death.
She was a devoted mother and grandmother, and will be missed by everyone. She was a member of the Altar Society and will be remembered for her dedication to her church and community.
She was preceded in death by her husband, George, in 1963, and her parents and brothers and sister in Germany.
In passing she is survived by her daughters Mrs. Gene (Georgia) Strotman of Aurora and Mrs. Justus (Margie) Dobesh of Kearney, also three grandchildren and a number of nieces and nephews in Germany.
Funeral services were held Tuesday, July 29, 1975 at 10:00 A.M. at St. Stephen's Catholic Church with Msgr. Ingenhorst officiating. Burial was in the Exeter Cemetery.
Pallbearers were - Martin Thompsen, Joe Becker, John Lief, Walt Dumpert, Bernard Harrre and Walt Barkmeier.
CARD OF THANKS
We wish to express our Sincere Thanks and appreciation to our many relatives, friends and wonderful neighbors who have been so kind and thoughtful to our Mother and Grandmother during her life in the Exeter community and especially at the time of her unexpected death. We would also like to Thank Msgr. Ingenhorst for his words of comfort and those who helped with the very impressive services. Words cannot express our gratitude to all of you.
The Family of Anna Becker


Fillmore County News
Exeter, Nebraska
August 7, 1975
---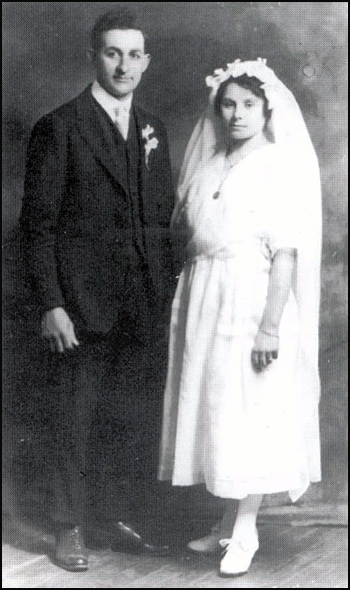 George and Anna Marie Franzen Becker