Wedding
Henry Jacob Becker & Christina "Christine" M. Erdcamp
---
A very pretty wedding was witnessed Tuesday morning at St. Stephens's Catholic Church when Christina Erdkamp and Henry Becker were married. The Rev. Rector, Fr. McDonald officiated.
Josephine Becker, sister of the groom, and Chris Judge acted as witnesses.
The bride was attired in a dainty gown of tan pongee, and Miss Becker's dress dress matched the one worn by the bride. Mr. and Mrs. Becker's friends wish them joy and prosperity.
Nebraska Signal
Geneva, Nebraska
Friday, August 6, 1909
---
Fatal Crash at Exeter Rail Crossing
N. M., Jacob and Henry Becker
Victims of Appalling Tragedy
An automobile and train collision at the Burlington crossing a block east of the Exeter station at about 10:45 Tuesday morning claimed the lives of three life long residents of this community. They were Nicholas M. Becker, 66, his cousins, Jacob Becker, 63, and Henry Becker, 54, who were brothers.
The victims of this appalling tragedy were members of families identified with this community from a period shortly after the first settlement here until the present. Their acquaintances included the far great numbers of residents here and their circle of friends was correspondingly large.
They were riding in a car owned and driven by N. M. Becker. The car was headed north and the train, second section of Burlington freight No. 62, was going east. It was a through train and not scheduled for a stop in Exeter.
Reports of eye witnesses indicate that the occupants of the car saw the train only an instant before the impact and that the driver tried to stop the car, the front wheels rolling onto the track. It also appears that Nicholas and Henry attempted to get out of the car and may have succeeded in getting part way out. Jacob was in the back seat. Nicholas and Henry were killed instantly and Jacob lived a few minutes after he was taken to the office of Dr. W. S. Wiggins.
The car, it is said, appeared to bounce in the air. It landed on its top near the foot of the railroad grade about forty feet east of the crossing, a total wreck.
The train stopped until necessary reports were made and a short time later Sheriff Steinacher, Deputy Hulse and Count Attorney Gewacke arrived and made a thorough investigation and survey of the scene.
Obituary
Henry Jacob Becker
---
Henry J. Becker, son of Mr. and Mrs. John Becker, early residents of this section, was born August 7, 1886. on a farm four miles east of Exeter. On August 3, 1909, he was married to Miss Christine Erdkamp, who with 13 children survives, The children are: Robert in California, Mrs. Anastasia Earl of Chicago, Mrs. Mary Burns of Ulysses, Mrs. Agnes Cudaback of Exeter, and Rose, who recently went to California; Three sons, Linus at home, Francis in CCC camp in Hebron and Richard at home; five daughters at home are Joan, Dorothy, Bertoil, Annabell and Rosita. One son, Edward died in infancy.
Also surviving are five sisters and four brothers. The sisters are Mrs. Kathryn Neissing, Exeter, Mrs. Mary Jansen and Mrs. Josephine Judge of O'Neill, Mrs. Minnie Dumpert of Exeter and Mrs. Henry Geiger of Utica. The brothers are Peter J., George, Will and Joseph of Exeter.
Funeral services for Jacob and Henry were held this morning at 9:30 at St. Stephens's Catholic Church.

Fillmore County News
Exeter, Nebraska
October 10, 1940
---

Obituary
Christine M. Erdcamp Becker
---
Christine M. Becker was born to William Erdkamp and Mary (Jansen) Erdkamp, July 21, 1889, at Krefeld, Germany, and passed away on January 25, 1982 at Warren Memorial Hospital in Friend, Nebraska at the age of 92 years, 6 months and 3 days. She was one of 8 children in the family.
Christine came to Nebraska in 1892 and was married in 1909 and lived in Exeter. In 1913 they moved to O'Neill and farmed. In 1918 they returned to Exeter and also lived in Geneva a short time and then came back to Exeter where she lived until her death.
She was married to Henry Becker of Exeter, Nebraska on July 26, 1909 and to them 14 children were born. Preceding her in death were her husband, Henry, three sons, Earl, Robert and Dick, and two daughters, Ann Early and Rosalie Morris.
Survivors are sons; Linus of Silver Springs, Maryland and Francis of Exeter; daughters, Mrs. Harry (Mary) Burns, Mrs. Clarence (Agnes) Cudaback, both of Exeter, Mrs. Chris (Joan) Pearson of San Diego, California, Mrs. Roy (Dorothy) Madra of Downy, California, Mrs. Frank (Zita) Rizer of Wheatian, Illinois, Mrs. William (Bertille) Swartz of Everette, Washington, Mrs. Annabell Mencher of Estes Park, Colorado; brother Walter Erdcamp of Gilroy, California; 31 grandchildren; 52 great-grand-children.
Rosary was held Tuesday evening, January 26 at Farmer Funeral Home. The funeral Mass with Monsignor H. H. Ingenhorst officiating was Wednesday, January 27, with burial in the Exeter Cemetery.
Pallbearers were grandsons; Larry, Roger and Bill Cutaback, Robert and Patrick Burns and Raphael Chrastil. Farmer and Son Funeral Home was in charge of arrangements.

CARD OF THANKS
We wish to thank all relatives and friends for the many Masses, cards and food, and to thank Harve Johnson, Gary Dumpert and Erdcamp Motors for cleaning the ice off the sidewalk in front of the parish hall and all others acts of kindness extended to us at the time of the death of our beloved mother.
Mr. and Mrs. Harry Burns and Family
Mr. and Mrs. Clarence Cutaback and Family
Francis Becker and Family

The Nebraska Signal
Geneva, Nebraska
February 4, 1982

(Note: The obituary for Henry and the wedding article in the Nebraska Signal has the marriage date as August 3, 1909. The marriage date in the obituary for Christine has the marriage date as July 26, 1909.)
---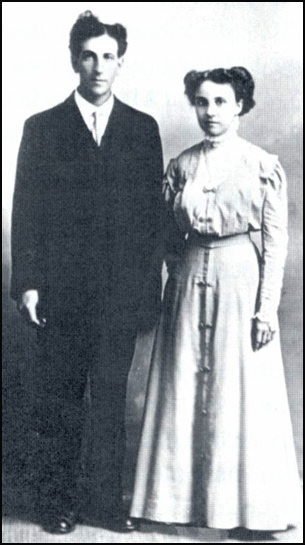 Henry and Christine Erdkamp Becker