Cpl. Arthur P. Becker
---
VICTIM OF VEHICLE ACCIDENT IN GERMANY
In a telegram received from the war department on Friday, Mr. and Mrs. Paul Becker were informed that their oldest son, Corporal Arthur Becker, 22, had been killed in a vehicle accident in Germany December 15. No details about the accident will be know until a letter from the war department is received. Corporal Becker, who was with the engineers, had been driving trucks, and in a letter received by his sister, Mrs. Derwent Kelch, Saturday, he mentioned that he was starting to drive to Belgium for supplies. He had been in the Army two years and overseas 15 months. The sad news of this young man's death, after the cessation of hostilities, is a reminder of the continued price of war, and the family has the deepest sympathy of the community.
Fillmore County News
Exeter, Nebraska
Thursday, January 3, 1946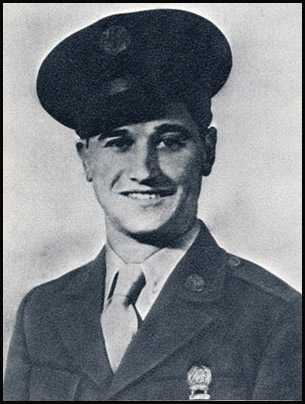 Arthur P. Becker

Memorial for Arthur Becker
---

Cpl. Arthur Becker, who was born June 4, 1923, made the supreme sacrifice in Berlin, Germany, as a member of Headquarters Co., 1151 Engineers, United States Army, December 15, 1945.

He was the oldest son of Mr. and Mrs. Paul Becker. He spent fifteen months overseas. He is survived by his parents, two brothers, Max and Paul, five sisters. Mrs. Theresa Kelch, Jane, Alice, Bonnie and Lucene and a host of other relatives and friends.

Memorial services were held January 22, 1946, at St. Stephen's Catholic Church in Exeter with Father Antochowski as celebrant, Father Stirn as deacon and Father Scholtens as sub-deacon and delivering the sermon, his topic being "Justice and Liberty."

The Legionnaires and veterans of World Wars I and II marched in a body at the services. William Ekeler, John Hassler, Raymond Geiger, Frank Barkmeier and Edmund Schafer, veterans of World War II, who had recently been discharged stood as honorary guards. After taps were sounded, the flag was presented to Mrs. Becker by Edmund Schafer.

Nebraska Signal
Geneva, Nebraska
Thursday, January 24, 1946

---
Memorial Services Held for Arthur Becker at St. Stephen's
---

In a memorial service for Corporal Arthur Becker at St. Stephen's Church Tuesday morning a Requiem High mass was offered by Rev. A. A. Antochowski as celebrant and the children of the parochial school chanted the Requiem Mass and the Libera. Father Antochowski was assisted by Rev. Clarence Stirn of Milligan as deacon and Rev. Henry Scholtens of Friend as sub-deacon.

Father Scholtens delivered the sermon. As a preface, he reminded his hearers that for the third time in less than a year, the loyal parish of St. Stephen's was called upon to hold memorial services for one of theirs who had made the supermen sacrifice in his country's service. Arthur Becker, he stated, was baptized, confirmed and had his first communion in St. Stephen's.

Father Scholtens text was from Psalms, in substance, "Love God and thy neighbor as thyself". He pointed out that, since its founding, our nation has stood for equal justice and liberty for all. This was the cause, he said, for which George Washington fought and for which Lincoln gave his life, and in this cause Arthur Becker also gave his life. In all his message Father Scholtens brought the words of comfort and assurance of the church to the sorrowing relatives and friends.

Veterans of both World Wars were present in a large number. Returned service members of World War II, who were members of St. Stephen's parish, formed a guard of honor.

Corporal Arthur Paul Becker, oldest son of Mr. and Mrs. Paul Becker, was born June 4, 1923 at Exeter and died December 15, 1945, in Berlin, Germany, the victim of a vehicle accident. He was 22 years, 6 months and 11 days of age. He grew up at the home near Exeter and attended parochial school and Exeter High School. Previous to entering the military service, he had been employed at the Spitz Foundry at Hastings for two years. He entered the Army December 10, 1943, and had served a few days more than two years, 15 months of that time being overseas with the 1151st engineers.

Surviving besides his parents are two brother and five sisters - Max and Paul Jr. and Mrs. Theresa Kelch, Jane, Alice, Bona and Lucene, all of Exeter.

In order that many friends in the plant, where Arthur worked in Hastings, might attend Tuesday's services, the Spitz Foundry was closed for the occasion. Relatives from that city present were Mr. and Mrs. John Spitz, Mr. and Mrs. Louis Spitz and Mr. and Mrs. Lyle Blauvelt.
Fillmore County News
Exeter, Nebraska
Thursday, January 24, 1946


---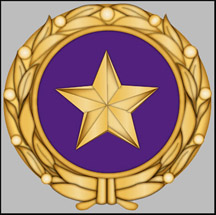 ---