Obituary
John Becker, Sr.
---
John Becker, Sr., died at his home three and a half miles north of Exeter at 5:30, Wednesday afternoon, December 31, 1902. Mr. Becker had been a sufferer for some time, and had attained an age of about 58 years.
Mr. Becker was born in Germany and has been a resident of Exeter for about thirty years.
The funeral was held yesterday morning at the Catholic church conducted by Rev. Father McDonald. The funeral was largely attended.
Interment was made in the Exeter Cemetery.
Fillmore County News
Exeter, Nebraska
January 3, 1903
---
Obituary
Mary Kremer Becker
---
Mary Kremer was born in Bettingen, Germany, February 24, 1851 and passed away at her home in Exeter, Nebraska on November 17, 1935 at the age of 84 years, 8 months and 21 days.
When a young women, she came with her parents to Iowa. She was married to John Becker, January 9 1872 at Cascade, Iowa. After living in Iowa a few years, they moved to Yankton, South Dakota, but did not live there very long. They then came to Exeter and lived on a farm, later buying a farm north of Exeter,
Thirteen children were born to this union of whom twelve are still living, Mrs. Matt Harre dying in 1910. Her husband preceded her in death in 1902. She remained on the farm for several years after her husband's death, then purchased a home in town, where she resided until her long life ended.
Mrs. Becker, being a pioneer here, suffered many hardships in the early days.
Grandma Becker, as she was usually called, was a good Christian mother and neighbor and was always ready to help her relatives and neighbors, when she was able. It was a pleasure to meet her as she was of a jovial disposition. She was fond of little children and it gave here pleasure to have grandchildren and great grandchildren with her.
She leaves seven sons, John, Jacob, Peter, Henry, George and Joseph, all of Exeter; and five daughters, Mrs. Henry Niessing, and Mrs. Minnie Dumpert of Exeter, Mrs. Chris Judge of Atkinson, Mrs. Herb Johnson of O'Neill and Mrs. Henry Geiger of Utica; 68 grandchildren and 33 great grandchildren; a number of other relatives and a host of friends.
Funeral services were held at St. Stephen's Catholic Church, Tuesday morning, November 19th at 9:30 with Rev. E. Boll in charge. Burial was in the Exeter Cemetery.
Fillmore County News
Exeter, Nebraska
November 28, 1935
---
Family of John and Mary Kremer Becker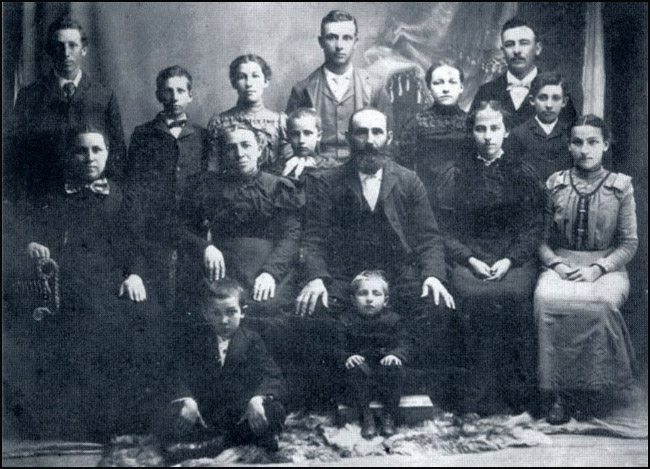 Back Row: Peter, Henry, Minnie, Jake, Mary "Mae" and John N.
Middle Row: Kate, Mary (Mother), Agnes, John (Father), Anna, Josephine and George
Front Row: William and Joseph