Obituary
Catherine Caroline Wiszmann Becker
---
Catherine Caroline Wiszmann, daughter of Henry and Mary Wiszmann, was born March 8, 1887 at Exeter and grew to womanhood on a farm northwest of town. She attended Exeter public school and was a graduate of the high school in the class of 1903.
She was married to Leo Richard Becker on October 27, 1909, and lived in this community until her death. This union was blessed with eight children - five sons and three daughters.
Mrs. Becker departed this life at her home on January 20, 1949, at the age of 61 years, 10 months and 12 days.
She is survived by her husband, Leo R. Becker, and the eight children: Cyril, Gerald, Leo, Charles, Jerome and Leona of Exeter; Mrs. Dolores Foley of Lincoln, Claude of Kellogg, Idaho and Rita Walker of Seattle, Washington: and 12 grandchildren. Also surviving are two brothers and four sisters: Sister M. Amio of Chicago, Illinois, Sister M. Claudia of Kearney, Nebraska, Mrs. Clara Barkmeier, Mrs. Dorothy Hayes and Charles and Henry Wiszmann of Exeter, besides a number of other relatives and a host of friends.
She was preceded in death by her parents; four sisters and a brother, Mrs. Anna Barkmeier, Mrs. Cecelia Brennar, Agnes, Elizabeth and William Wiszmann.
Mrs. Becker was a faithful member of her church and a mother devoted to the care and upbringing of her family. The success of her life is measured by the lives of her eight children, all of whom are graduates of the Exeter High School of which she was an alumna, and all are faithful to their church and the better things of the community in which they live.
Funeral services were held Saturday morning at 10 o'clock in St. Stephen Catholic Church. Requiem High Mass was offered by Rev. A. A. Antochowski. Interment was in the Exeter Cemetery.
Fillmore County News
Exeter, Nebraska
Januay 27 1949
---

Obituary
Leo Richard Becker
---
Leo R. Becker, 77, died unexpectedly in Omaha, Monday, November 12, 1962.
Funeral services will be held at 10:0 a.m. from St. Stephen's Catholic Church, Friday, November 16. Rosary will be recited at 7:30 p.m. Thursday, November 15, at the Farmer Funeral Home. Burial will be in the Exeter Cemetery.
Survivors are sons, Cyril, Gerald, Jerome and Leo, Charles, all of Exeter, Claude of Kellogg, Idaho; daughters, Mrs. Maurice Foley of Lincoln, Mrs. John Burns of York, Mrs. Rita Walker of Seattle, Washington; brothers, Frank of Hastings, Edward, Paul and Alphonsus, all of Exeter; 30 grandchildren and one great grandchild.
Fillmore County News
Exeter, Nebraska
November 15, 1962
---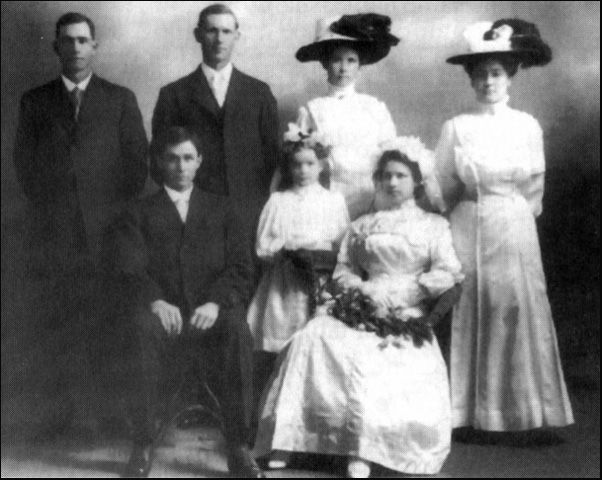 Wedding of Leo Becker and Catherine Wiszmann
Attendants: Charles Wiszmann, Matt Becker, Clara Wiszmann Barkmeier and Minnie Becker Pettit. Flower girl: Dorothy Wiszmann Hayes.