Obituary
Nicholas Becker
---
Nicholas Becker was born in Aussen, Germany, December 1, 1849 came to America in 1869, located in Illinois, where he worked in a coal mire for some time, then he worked in Iowa for a few years coming to Nebraska in 1872. He located on the farm where Adam Dumpert now lives, later moving to his farm three miles north of Exeter. He lived on this farm for a number of years, giving up farming in 1910. He built a nice modern bungalow in north Exeter and lived here until his death April 9, 1926.
In 1872 he was married to Miss Caroline Wiszmann. To this union eight children were born, two dying in infancy. Their son Matthias passed away two years ago. Mrs. Hendy Jansen, Mrs. Albert Kaiser, Mrs. George O'Dea and William all of Exeter survive him; also his wife and nine grandchildren besides a host of other relatives and friends.
Mr. Becker being one of the early settlers here, went through many hardships. He was a very hard working man when he was young. He always enjoyed life and was a good provider for his loving wife and children. He enjoyed good health until last July when he began to fail, but was confined to his bed only about two weeks. He was a good and kind husband and father and will be greatly missed by his loved ones.
Funeral services were held at St. Stephen's Catholic Church on Monday at 9:30, conducted by Rev. James Gilroy of Friend. The church was filled with relatives and friends to pay their last respects to the deceased. Burial was in the Exeter Cemetery.

CARD OF THANKS
We take this means of extending our sincere appreciation for the kindness of our friends and relatives during the sickness and death of our beloved husband and father; also the Modern Woodman Lodge.
Mrs. Nicholas Becker and Children

Fillmore County News
Exeter, Nebraska
April 15, 1926
---

Obituary
Caroline Wiszmann Becker
---
Caroline Wiszmann was born Februart 23, 1849 at Riemsloh, Germany and with her brother Matthias Wiszmann, came to Exeter, Nebraska in 1873 and made her home with her brother, Henry Wiszmann, until she was married to Nicholas Becker, August 19, 1874. They made their home on a farm north of Exeter until 1910, when they moved into a new bungalow in north Exeter. Her husband passed away April 9, 1926. Her health failed last fall and she went to live with her daughter, Mrs. Albert Kaiser, at whose home she passed away April 13, 1929.
She was a kind and loving wife and mother and made many friends through her kind deeds.
She leaves to mourn her departure, Mrs. Anna Kaiser, Mrs. Elizabeth O'Dea and William Becker of Exeter and Mrs. Rose Peterson of Chicago; nine grandchildren and many other relatives and friends.
Four children preceded her in death, Clara and John died in infancy; Matthias, December 14, 1923 and Mrs. Mary Jansen, May 6, 1928.
Funeral services were held April 15, 1929, at 9:30 at St. Stephen's Catholic Church, conducted by Rev. E. Boll.

CARD OF THANKS
We wish to thank all who so kindly assisted us during the sickness and after the death of our mother, also for the beautiful floral offerings.
Mr. and Mrs. Albert Kaiser
William Becker
Mr. and Mrs. George O'Dea
Mr. and Mrs. John Peterson
Henry Jansen and family
Mrs. Anna Becker and children

Fillmore County News
Exeter, Nebraska
April 18, 1929
---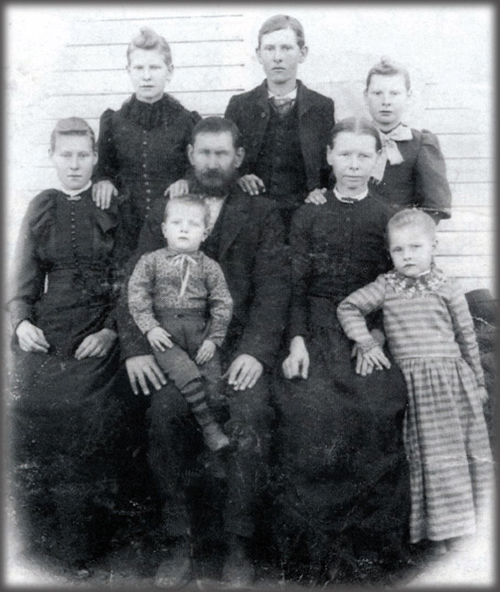 Family of Nicholas and Caroline Weizmann Becker

Children
Back Row: Mary Becker, Matthias Becker and Anna Becker
Middle Row: Elizabeth Becker
Front Row: William "Bill" / "Red" Becker and Rose Becker