Obituary
Peter Becker
---
A PIONEER GONE
Peter Becker died at his home in Exeter, Nebraska, January 9, 1920, after a lingering illness of four months.
He was born in Aussen, Germany September 16, 1840, where he resided until 1869, when he came to America. He located in Genesio, Illinois, where he worked in a coal mine for one year, when he heard of opportunities in the western prairies, the coal mines of the east could not hold him longer. He decided to come west and filed a claim two miles east of Exeter, where he went through the hardships of all the early pioneers. After filing on his claim, he walked to Nebraska City to find work. There he worked at various jobs for six months, then came back and made some improvements on his claim, after which he worked on the B & M railroad and helped build the road from Crete to Kearney, then came back to his homestead and spent his entire time farming. By diligent labor and good management he added to his homestead until his holdings comprised 560 acres. In 1914 he decided to retire. He divided his property among his children and moved to Exeter where he bought a cozy home to spend the remaining years of well-earned rest. He was married to Barbara (Dumpert) Becker, June 26, 1873 by Rev. Twrkleitor. To this union was born 10 children.
He leaves to mourn his death his wife, Barbara Becker, and the following children: N.M., P.B., J.H. and Victoria Becker of Exeter; Mrs. J., Mrs. J.N., Mrs. Joseph and Mrs. Peter H. Emanuel of North Bend; all of whom were present at the funeral.
Preceding him in death were: Mrs. Anna Emanuel, Louise and an infant child.
The funeral services were conducted Tuesday, January 13th in St. Stephens's Catholic Church of Exeter of which he was a founder and staunch member, by Rev. Boll of Exeter, assisted by Rev. Mosler of Crete as deacon and Rev. Gilroy of Friend as sub-deacon. The honorary pall bearers were Peter Emanuel, Frank Miller, J. M. Emanuel, John Wilger, Patrick Murphy and William Wilger. The active pall bearers, George Hassler, James Fowler, William Jensen, John O'Neil, Matt, Harve and William Schreiner. His remains were laid to rest in the family lot in the Exeter Cemetery.

CARD OF THANKS
We wish to express our sincere thanks to the many neighbors and friends for the kind deed during the sickness and burial of our husband and father. We also wish to express our thanks for the beautiful flowers and the cards.
Barbara Becker
Children and Grandchildren

Fillmore County News
Exeter, Nebraska
January 15, 1920
---

Obituary
Barbara Dumpert Becker
---
Barbara Becker was born May 23, 1846 at Hüttersdorf, Germany and passed away at her home in Exeter, Nebraska, February 6, 1925, at the age of 78 years, 8 months and 13 days. She came to America in 1873 and on June 26 of that year was married to Peter Becker who passed away in January 1920.
Mr. and Mrs. Becker settled on the farm southeast of town, which she still owned at the time of her death, in a very early day their home was a place of hospitality to all and one where strangers, as well as friends, found a welcome. Their home was also used for all Catholic services long before a church was erected. In May 1914, Mr. and Mrs. Becker left the farm for their son John to occupy and with the youngest daughter moved to town.
Eight children were born to this union, of whom six are still living. They were all with their mother at the time of her passing away. The children are N. M Becker and P. B. Becker of Exeter, Mrs. Mary Emanuel of North Bend, Mrs. Anna Emanuel, deceased, J. H. Becker of Exeter, Helena Emanuel, North Bend Valley, Mrs. Elizabeth Emanuel, deceased, and Mrs. Victoria Becker of Exeter.
Funeral services were conducted by Father E. Boll at the Catholic church Monday, February 9, at 9:30 a.m. at which time the Solemn Requiem High Mass was said with Father Gilroy of Friend as deacon and Father Healy of Grafton as sub-deacon. Interment was in the Exeter Cemetery.
Nebraska Signal
Geneva, Nebraska
February 12, 1925
---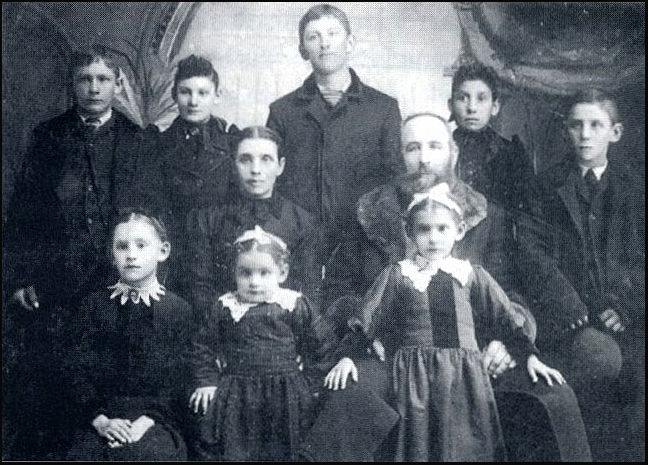 Family of Peter and Barbara Dumpert Becker
Children
Back Row: Peter "Little Petey" Becker, Mary Becker, N.M "Nick" Becker; Anna Becker, J.H. John "Stripes" Becker.
Front Row: Helena Becker, Victoria "Dora" Becker, Elizabeth "Lizzie" Becker.
---
(Note: The obituary of Peter Becker notes that 10 children were born to the union of Peter and Barbara. The obituary for Barbara Dumpert Becker indicates 8 children were born to this union. It appears from Peter's obituary that an infant child and perhaps another child, Louise, preceded them in death.)