William "Bill" Eugene Morgan
William (Bill) Morgan, the son of John and Ella (Barkmeier) Morgan, lived on the Morgan Farm in the West Blue Township in York County. The farm was homesteaded in 1876 by Bill's great grandfather and purchased April 10, 1882 from the U.S. government. The purchase was signed by President Chester Arthur. Bill, a veteran of the Korean War, was actively engaged with the American Legion Post 218 in Exeter, Nebraska.
---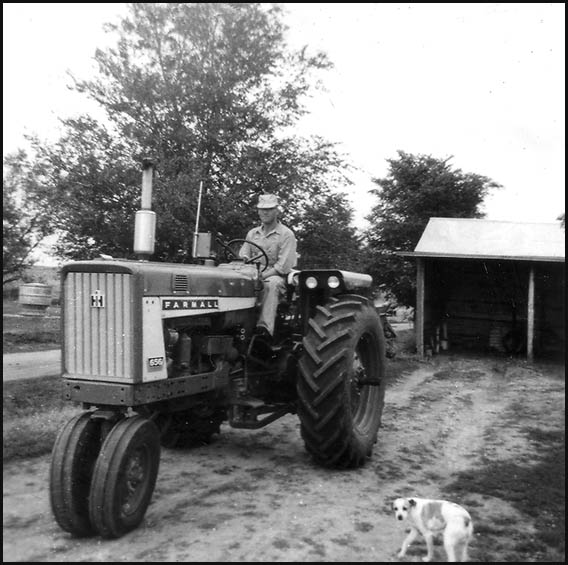 Bill Morgan & Tippy
Bill and newly purchased International Harvester Farmall 656 tractor.
1967
---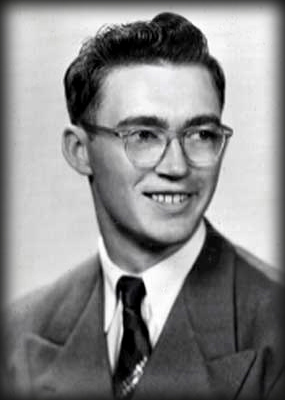 William "Bill" Morgan
High School Graduation
Exeter, Nebraska
1951
---

Obituary
William E. Morgan, age 78, passed away February 3, 2011. He was born to John and Ella (Barkmeier) Morgan on July 3, 1932, in Exeter, Nebraska. Bill attended Country School and St. Stephen's Parochial School. He graduated from Exeter High School with the class of 1951.
Bill served in the U.S. Army and was a veteran of the Korean War. He served from November 3, 1952, until his honorable discharge September 21, 1954. Bill returned home to farm the Morgan Homestead. This farm received the Ar-Sar-Ben 100 year award several years ago. He was a life long farmer and enjoyed his hogs (usually).
Bill was a member of St. Stephen's Catholic Church, the American Legion and the VFW. You could always find him in attendance at the area football, basketball and baseball games. He was an avid sports fan for the area as well as the Big Red. Bill enjoyed his noon meals at the various cafes in Cordova and Exeter, where he would visit daily with friends.
Bill was preceded in death by his parents, a brother John and sister Mary, and brother-in-law Tom Votipka.
He is survived by his sister, Lea Ann Votipka, his aunt Ann Pospisil, his niece Marsha Turbett of Lincoln, nephews Robert Votipka and wife Barbara of Exeter, Ron Votipka and wife Michele of Lincoln. He has great-nephews, Richard, Zach and Luke Votipka, Ted Turbett and great nieces Rebecca Streff, Abby Pringle and Maria Votipka and two great-great nephews and one great-great niece along with many relatives and friends. He was never late remembering all nieces and nephews with cards and donation on their birthdays! His constant smile and chuckle will be missed by all.
Funeral services for Bill were held on February 7, 2011, at St. Stephen's Catholic Church in Exeter with the Rev. Tom Kuffel officiating. Agnes Anderson accompanied Robert Rhodes in the singing of "On Eagles Wings," "Our Father," "Ave Maria" and "Amazing Grace."
Pallbearers for the service included Robert Votipka, Zach Votipka, Luke Votipka, Ted Turbett, Steve Rhodes, and Dwight Johnsen. Interment was held in the Exeter Cemetery with military rites conducted by the Exeter American Legion William Sullivan Post 218. Farmer Funeral Home was in charge of arrangements. Memorial are directed to the William Sullivan Post 218 or St. Stephen's Catholic Church.
theSentinel
Friend, Nebraska
February 9, 2011
---