Obituary
Frank Joseph Ekeler
---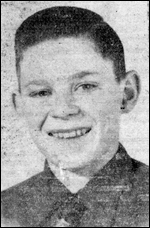 Funeral services were conducted at St. Stephen's Catholic Church Tuesday, July 27, 1954 for Frank Joseph Ekeler, 14, son of Mr. and Mrs. Frank Ekeler, Jr. The lad was fatally injured in an auto accident northeast of Exeter, Nebraska on Saturday, July 24, 1954.
Frank Joseph Ekeler was born November 12, 1939 and graduated from St. Stephen's School in Exeter, May 15, 1953. He was a member of the CYO and choir at St. Stephen's, and also served as an altar boy for eight years.
After graduating from St. Stephen's, he attended Exeter High School where he was active in all school activities. He was a member of the football, basketball and track teams.
Survivors are his parents, Mr. and Mrs. Frank Ekeler, Jr. , two brothers, John serving with the Armed Forces in Korea, and Wilfrid at home, two sisters, Mary Anne and Francis, both of Lincoln; grandmother, Mrs. Frank Ekeler, Sr., of Exeter.
Services were in charge of Msgr. John F. Ekeler, uncle of Frank Joseph, with interment at Exeter Cemetery. Pallbears were Gary Ruhl, Galen Crowder, Frank Bougger, Paul Beranek, John Dinneen, Jr., and Clarence Harre.
---
One Exeter youth was killed and four others injured early Saturday morning on a gavel road one mile north and two and one-fourth miles east of Exeter. Frank Joseph Ekeler, 14, was fatally injured. Charles Miller, 18, Garve Chapman, 17, Wilfrid Ekeler, 16, and Henry Myers, 16, sustained injuries.
The five boys had been among the Exeter Boosters who had visited different towns during the day advertising the Exeter Diamond Jubilee, being in different cars. After getting back to Exeter, they decided to go get something to eat and it was on there way to let the Ekeler boys out at their home when the accident occurred.
The boys were riding in Charles Miller's 1939 Studebaker sedan. Apparently Charles lost control on the gravel. The car went off part way into the south ditch, then crossed the road and went into the ditch in the north side striking a Consumers power line pole. The pole was broken into three pieces. Officers investigating the accident stated that the car traveled 344 feet from the time it hit the south ditch until it struck the pole.
Apparently Frank Joseph Ekeler died instantly as he sustained a broken neck. Charles Miller was rendered unconscious and it was reported Sunday night that he had still not regained consciousness. Henry Myers sustained a deep cut over the right ear, besides bumps and bruises. Wilfrid Ekeler and Garve Chapman escaped with severe bruises and abrasions.
After the accident two of the boys went to the John Harre home not far from the scene and called Dr. Lewellen and the Farmer ambulance from Exeter. Sheriff Tobiassen was also notified. All the boys were taken to the Friend Hospital. The Myers boy was released after treatment. Wilfrid Ekeler and Chapman were released the next day.
Funeral services for Frank Joseph Ekeler were held at St. Stephen's Church in Exeter Tuesday morning.
Fillmore County News
July 1954
---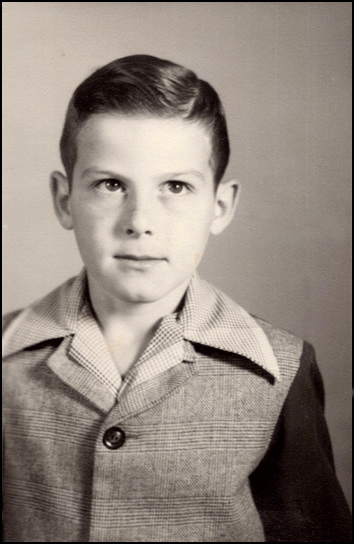 Frank Joseph Ekeler