Leo Henry and Dorothy Ann (Harre) Ekeler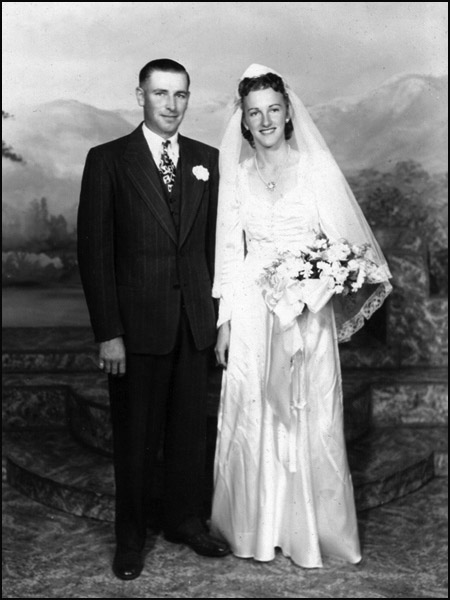 Wedding Picture
October 8, 1947

---

HARRE - EKELER
On Wednesday morning, October 8th, at 9 o'clock at St. Stephens's Catholic Church, Miss Dorothy Harre, daughter of Mr. and Mrs. Bernard Harre, became the bride of Leo Ekeler, son of Mr. and Mrs. Frank Ekeler, Sr. Rev. John Ekeler of Crete, brother of the bridegroom officiated in the Nuptial High Mass and double ring ceremony. The St. Stephen's choir, with Rev. A. Antochowski at the organ, sang the Nuptial High Mass.
The bride was attired in a white satin bridal gown with lace inserts and a finger-tip veil. She carried a bouquet of white roses and carnations. Her only ornament was a pearl necklace, a gift of the bridegroom.
The bride's only attendant was her sister. Mrs. Virgil Baker of Lincoln, who wore a blue, barred organdy gown with matching veil. Her corsage was of pink carnations.
The bridegroom's only attendant was his brother, Alfred Ekeler. Both wore dark suits and carnation boutonnieres.
After the ceremony, a wedding dinner was served to the immediate families of the couple in the church parlors. The color scheme at the dinner was pink and white and the table was centered with a three-tier wedding cake baked by the bridegroom's sister-in-law, Mrs. Henry Ekeler. The cake was topped with a miniature bride and groom. The dinner was prepared by Mrs. Joe Becker and Mrs. John Harre, aunts of the bride, and Mrs. William Barkmeier, aunt of the bridegroom.
Both Mr. and Mrs. Ekeler are graduates of Exeter High School. Mrs. Ekeler has worked in Lincoln until the last few months. Mr. Ekeler has been engaged in farming. After a short trip to Colorado, they will make their home on a farm northwest of town.
Fillmore County News
Exeter, Nebraska
October 16, 1947