Obituary
Wilfrid Joseph (Willy) Ekeler
---
Wilfrid J. (Willy) Ekeler was born February 17, 1938 in Exeter to Anna C. (Bougger) and Frank Ekeler Jr. He passed away suddenly in Exeter, May 13, 2007, at the age of 60 years, 2 months, and 26 days on the same farm and less than hundred yards from where he was born.
Willy attended St. Stephen's Catholic Elementary School and Exeter Public High School. He graduated in 1955. Willy was a lifelong member of St. Stephen's parish in Exeter and served many years on the church board. Willy entered the Army Reserves in 1961 and took his basic training at Ft. Riley, Kansas. He returned to Exeter to assist his father in farming and took over the operations after his fathers death. He continued to farm until 1999, when he retired. Since 1999, he has assisted his son Greg at Ekeler Repair in Exeter. Willy also served on the Exeter Township Board for many years.
On August 26, 1966, Willy was joined in marriage to Ruth Ann Conner of Friend. To this union, eight children were born, Michael, Gregory, Estelle, Jennifer, Catherine, Elizabeth, Monika, and Mary. Willy and Ruth celebrated their 40th wedding anniversary in August 2006.
Willy was a loving husband, father, grandfather, brother, and uncle. Before he was married, his nieces and nephews spent a lot of time on the farm with him and he enjoyed spoiling them, as he later would his grandchildren. Throughout his life, his favorite pastimes included spending time with his family, especially his children and grandchildren. He taught each of his children how to drive and spent countless hours in the passenger seat holding on. Attending his children's sporting event and other activities was very important to him and he rarely missed a game or track meet. Lately, he has enjoyed following his son Greg's two-man cruiser racing at Junction Motor Speedway. He also enjoyed watching birds and wildlife with his wife and trap shooting with his sons, sons-in-law, and grandsons. When Willy was still farming, he enjoyed taking the kids and later grandkids for rides in the tractor and showing the grandkids how to feed the cows. In the past couple of years, one of his hobbies was fixing up his lawnmower and turning it into a racing machine. He enjoyed showing it off to the kids and grandkids, as long as the grandkids agreed not to tell Grandma it didn't have breaks. He also enjoyed giving out candy to his grandchildren, often causing their parents to wonder why they weren't eating dinners. The grandkids loved to sit on his lap and have him read to them. Family and friends appreciated his calm demeanor and gentleness.
One of the things Willy enjoyed most was early morning coffee in Exeter with his friends and relatives. He was an avid Nebraska Cornhusker football fan and never missed a game on television or radio and in his younger days, he also attended many games. Although he was a loyal fan whether they won or lost, one of his most recent dreams was seeing the Cornhuskers return to national championship status. He also liked to go fishing with family, and one of the times remembered by his grandkids was Grandpa catching a "BIG" fish that seemed a lot smaller than the ones they were catching.
Willy is survived by his loving wife Ruth of Exeter, son Mike and daughter-in-law Kris and grandkids Matt, Nicole and Zach of Geneva, son Greg of Exeter, daughter Estelle and son-in-law Ted DeJonge and grandchildren Kevin, Kelsey, and Kaleb of Roca, daughter Jenny of Lincoln, daughter Cathy of Lincoln, daughter Liz and son-in-law Dan Kallhoff and grandson Troy Wilfrid of Exeter, twin daughters Monika of Lincoln and Mary of Exeter, Sister Mary Anne and brother-in-law Dwight Doran of Omaha, sister Frances of Lincoln, mother-in-law Esther Deterding of Exeter, uncle and aunt Leo and Dorothy Ekeler of Exeter, nieces, nephews, cousins, and many other cherished relatives and friends.
Willy was preceded in death by brothers, Frank Joseph and John, his mother and father, Anna C. and Frank Ekeler Jr., his nephew Frank Doran, his grandparents, and several other relatives and friends.
Funeral services were conducted from St. Stephen's Church in Exeter at 10:00 am, Wednesday, May 16, 2007 with Father Stephen Cooney officiating. Serving as acolyte was Ron Kuska with Tom Hoffman serving as reader. Agnes Anderson accompanied cantor Jessica Ruhl with songs "On Eagle's Wings", "Here I Am Lord", How Great Thou Art", "On This Day O Precious Mother" and "Be Not Afraid." Casket bearers were Joe, Paul and Fred Doran, Kent Ekeler, Kent Olsen, Joe Dinneen, and Shane and Shawn Slezak. Honorary bearers were Larry Cudaback, J.J. Dinneen, Sterling Dyer, Larry Ekeler, Del Jensen, Albert Kaiser, Bill Michl, Jack Nolar, Roger Neemann and Hugh Wilson. Burial with military honors by William Sullivan Exeter American Legion Post #218 was held at the Exeter Cemetery. Funeral services were in charge of Farmer Funeral Home with memorials directed to the Exeter American Legion or Exeter Fire and Rescue.
---
Obituary
Ruth Ann (Conner) Ekeler
---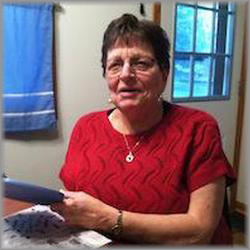 Ruth Ann Conner Ekeler was born on April 4, 1943 in Omaha, Nebraska. In September of 1949, she and her sister Faye were adopted by Virgil and Esther Conner of Friend. She passed away March 4, 2014 at the age of 70 years and 11 months at St. Elizabeth Hospital in Lincoln surrounded by all eight of her children and their spouses, many of her grandchildren, her sister Faye, and several other family members.
After being adopted by Virgil and Esther Conner, Ruth attended Friend Public Schools. After her graduation in 1961, she attended St. Elizabeth School of Nursing in Lincoln. She graduated and became a Registered Nurse in 1964.
Ruth married Wilfrid Ekeler of Exeter on August 26, 1966. To this union, eight children were born: Michael, Gregory, Estelle, Jennifer, Catherine, Elizabeth, and twins, Monika and Mary.
Ruth was called to nursing from an early age and after her graduation from St. E's, worked as a nurse for 44 years. Ruth's workplaces included St. Elizabeth Hospital in Lincoln, Warren Memorial Hospital in Friend, Rivendell in Seward, Henderson Care Center, and Exeter Care Center. Ruth was an inspiration to many in the nursing profession and the relationships she had with the many people she worked with over the years were very important to her. She retired from nursing in 2008.
Ruth was a member of St. Stephen's Parish in Exeter for 48 years. Throughout her years there, she served on the St. Stephen's Altar Society and played the organ.
In her early years, Ruth enjoyed sewing of all kinds and made most of the clothing for her three oldest children as well as Halloween costumes, including the famous tiger costumes that have been worn now by two generations.
Ruth and her husband Willy loved attending sporting and school events for their children as they were growing up. Ruth spent countless hours on the bleachers at the Exeter High School gymnasium and in her lawn chair at track meets and at the baseball/softball fields. She kept stats at every event.
Ruth was an avid cook and was especially known for her award-winning gravy. Some of her other specialties included roast beef, mashed potatoes, beef and noodles, chicken soup, goulash, breakfast casseroles, coffee cake, and macaroni and cheese.
Ruth was preceded in death by her husband Willy, her father Virgil Conner, her step-father Joe Deterding, her brothers-in-law Wally "Gator" Neemann and Dwight Doran, nieces Geri Doran Yanes and Lori Neemann Becker, nephew Frank Doran, and brother Ray Snell.
Ruth is surived by her eight children, sons Mike and Kris Ekeler of Geneva, Greg Ekeler of Exeter, Daughters Estelle and Ted DeJonge of Roca, Jennifer of Lincoln, Cathy of Lincoln, Liz and Dan Kallhoff of Exeter, Monika Ekeler of Lincoln, and Mary Ekeler of Exeter, 10 grandchildren, Matt and Susan Ekeler of Geneva, Nicole Ekeler and Christian Haumont of Geneva, Zach Ekeler of Fremont, Kevin, Kelsey, and Kaleb DeJonge of Roca, and Troy, Brett, Wilfrid, and Thomas Kallhoff of Exeter, and one great grandchild, Hailey Ekeler of Geneva. She is also survived by her sister and best friend Faye Neemann of Exeter, her mother Esther Deterding of Exeter, sister Ernestine and Gene Felton of Longview, WA, brothers Miles "Dick" Snell of Kenmore, WA, Jay and Jo Woodward of Omaha, Bob and Marty Mitchell of Edison, Dale and Kay Miller of Peoria, AZ, and Ron Hughes and Sheri Harig of Lincoln and many cousins, nieces, nephews, and friends.
Funeral Mass for Ruth was held at 10:00 a.m. Monday, March 10, 2014, at the St. Stephen's Catholic Church in Exeter, Nebraska. Visitation was Sunday from 1:00 p.m. until 5:00 p.m. at the Farmer Funeral Home in Exeter. Rosary was at 7:00 p.m. Sunday at St. Stephens Catholic Church. Interment was in the Exeter Cemetery. Memorials are directed to the Willy and Ruth Memorial Scholarship in lieu of flowers.
---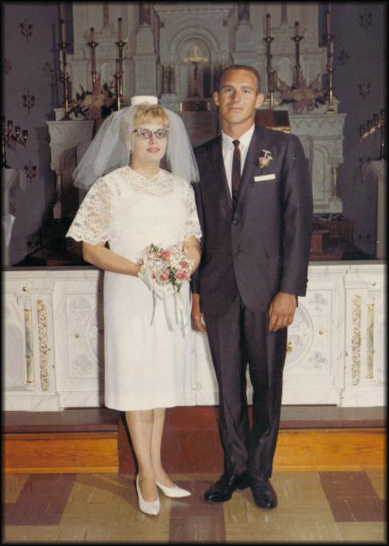 Wedding
of
Ruth Ann Conner & Wilfrid Joseph Ekeler
St. Joseph Catholic Church
Friend, Nebraska
August 26, 1966