The Fremont, Elkhorn & Missouri Valley Railroad, a subsidiary of the Chicago & North Western, built a line from Fremont, Nebraska to Superior, Nebraska in 1887. The segment was completed in 1888 and connected to the Santa Fe Railroad in Superior, Nebraska.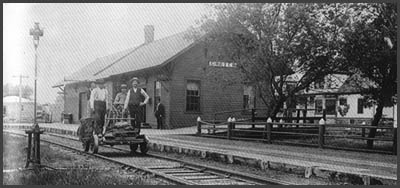 A tower was built east of Exeter in 1908 where the line of the Chicago & North Western (C&NW) crossed the line of the Chicago Burlington & Quincy (CB&Q). The tower was manned by towermen to provide switching operations for trains at the crossing of the two railroads. Automatic switching equipment was installed in 1945.
Exeter was a popular transfer station for train passengers coming from southern points through Superior. Passengers would change from the C&NW in Exeter and continue to Lincoln on the CB&Q.
During World War II, the C&NW found increased activity with the expansion of the Fairmont Air Base. However, after the war the activity of the railway diminished and the station depot closed in September of 1953. The C&NW discontinued the Seward to Superior line in December 1972. The track laid idle for two years and the Great Plains Railway established service from Seward to Superior in June 1974 and operated until April of 1975. The track was dismantled beginning in 1976.