St. Stephen's Catholic Church & Rectory
Exeter, Nebraska
circa 1915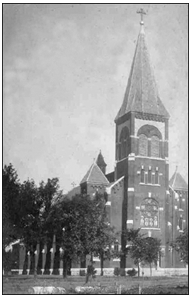 St. Stephen Catholic Church in Exeter, Nebraska was built beginning in 1901 and dedicated in 1903. The Rectory was built in 1910.
The church was severely damaged by a wind storm in 1917. Repairs were completed, but the tall steeple was not replaced. Over the years many improvements and restoration efforts have been completed on both the church and rectory.