The earliest bank in Exeter, Nebraska began with a safe in a business house. In 1878 Dr. H.G. Smith deeded property to William H. Taylor for the bank. Mr. Taylor served as president of the bank and William H. Wallace was cashier.
In 1880 the property was deeded to Wallace & Company and Mr. Wallace became bank president. A new two story brick building was built in 1883. The old wood frame building was moved into the street in order to continue business during the construction of the new building.
In 1884 the name of the bank was changed to Exeter National Bank. The bank was renamed Wallace & Company in 1897. William H. Wallace and Robert Wallace of Morrison, Illinois were the bank owners.
In 1903 William H. Wallace became the sole owner of the bank. His son, William P. Wallace joined him as vice president in 1908. William H. Wallace moved his family to Lincoln, but continued to work at the bank in Exeter and traveled to Lincoln on the weekends. William H. Wallace died in 1926.
The bank was nationalized in 1928 and named Wallace National Bank with William P. Wallace serving as president. In 1933, during the depression, the Wallace National Bank closed and was liquidated. William P. Wallace and his sisters, heirs of William H. Wallace, repaid all the depositors after the bank failure.
Source:
They Called It Exeter
Exeter Centennial Book Committee
1979
---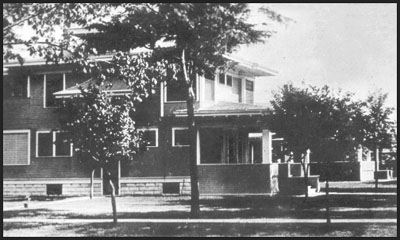 William P. Wallace Residence
circa 1915

---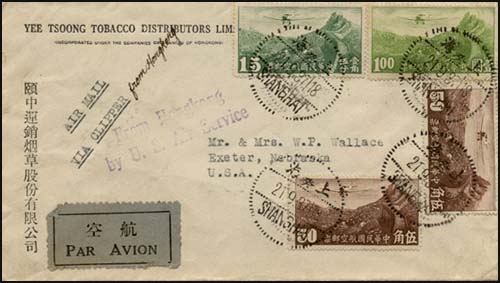 Airmail cover from Shanghai, China to Exeter, Nebraska
September 21, 1937
"Mailed to Mr. & Mrs. W.P. Wallace from Hong Kong"