Obituary
Frank Joseph Hammond
---
Frank Hammond, former resident of the Centre community, died suddenly of a heart attack at his home near Tuthill, South Dakota, on Wednesday morning of last week. Mr. Hammond had been working in the yard of his farm, and returning to the house, handed his cap to his wife, and in walking to the lounge fell over dead. He had not been in the best health the past three years, and six months previous to his death had been receiving treatment for a diabetic ailment.
Frank Joseph Hammond was born May 24, 1880, and died at Tuthill on Wednesday, January 7, 1942, at the age of 61 years, 7 months and 15 days.
On April 23, 1907 his marriage to Philmina Menke occurred at Exeter, Nebraska. To this union three daughters were born. They made their home in that city until 1915. After that time they moved to Knox County, and located on a farm near Niobrara. From there they moved to Bennett County, South Dakota, and lived on a farm near Tuthill which has been their home up to the time of death.
He leaves to mourn his departure his wife, and three daughters, which are Mrs. Wallace Bertschinger of Creighton, Mrs. Bernard Emerick of Cody and Mrs. Donald McPherson of Omaha. Other relatives who survive are eight grandchildren, one sister, Mrs. Ann Becker of Exeter, Nebraska and three brothers, Tim of Hugo, Colorado, Henry of Exeter and Hugh of Sidney, Nebraska, and a host of friends.
The body was brought to Creighton on Friday, and the funeral services were held on Saturday morning at 9 o'clock from St. Ludger's Catholic Church. Rev. Father Windolph, church pastor, officiated in the presence of an assemblage of friends. Interment was made in St. Ludger's Cemetery beside his brother, Charles, who preceded him in death in February 1940.
The Creighton News
Creighton (Knox County), Nebraska
Thursday, January 15, 1942
---

Obituary
Philmina "Minnie" Maria Menke Hammond
---
Funeral services for Mrs. Minnie Hammond, 85, were held Saturday morning, December 28, at St. Luger Catholic Church with the Rev. John Starostka officiating. Burial was in St. Ludger Cemetery.
Mrs. Hammond died December 25 at Lundberg Memorial Hospital. She had been a patient there since November 18.
For the past five years she had resided with her daughters at Cody and Creighton. Last July 28, she entered the Creighton Care Centre.
Surviving are three daughters, Mrs. Don (Margaret) McPherson of Port Orchard, Washington, Mrs. Bernard (Marie) Emerick of Cody and Mrs. Wallace (Lyona) Bertschinger of Creighton; 12 grandchildren; one brother, Billie Menke of Wray, Colorado and one sister, Mrs. William Matthews of McCool Junction.
She was preceded in death by her husband Frank, two brothers and four sisters.
The Creighton News
Creighton, Nebraska
Thursday, January 9. 1969
---

Hammond-Menke
At the Catholic church Tuesday morning Mr. Frank Hammond and Miss Minnie Menke were united in marriage, Rev. Fr. McDonald officiating. Both are natives of Exeter township of which their parents were among the pioneer residents and their many friends extend cordial congratulation and best wishes.
Exeter Enterprise
Exeter, Nebraska
Friday, April 26, 1907
---
Family of Louis and Anna Marie Becker Menke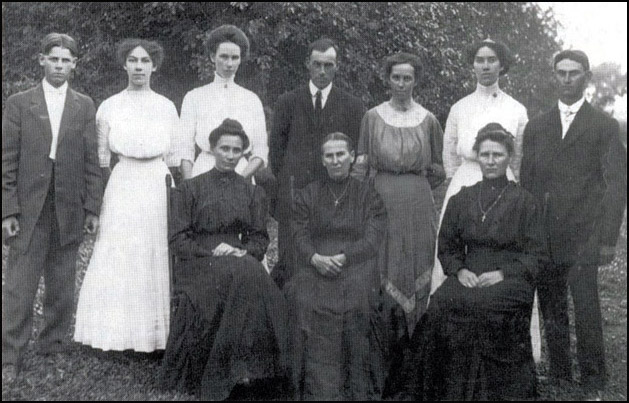 (Standing - Back Row -Left to Right)
William "Billy" Menke, Helena "Lena" Menke Matthews,
Philmina Maria "Minnie" Menke Hammond, John Menke,
Anna Barbara Menke Barkmeier, Sophia Menke Matthews and Henry Menke
(Sitting - Front Row - Left to Right)
Fredericka "Rica" Menke Dumpert, Anna Marie Becker Menke
and Mary Menke Jansen
Wedding Day of Sophia Menke & William "Bill" Matthews
1911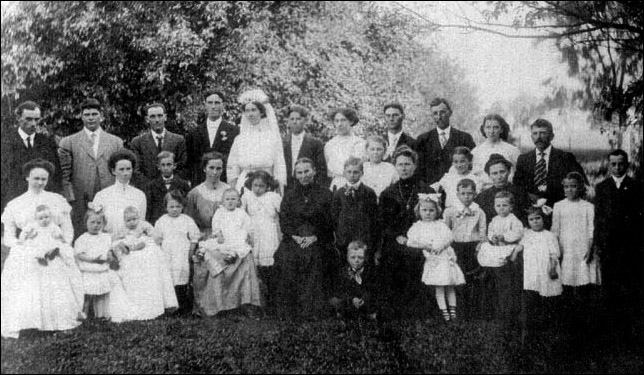 (Standing - Back Row -Left to Right)
John Menke, Frank Hammond, August Barkmeier, William Matthews, Sophia Menke Matthews, William "Billy" Menke, Helena "Lena" Menke Matthews, Henry Menke, William Jansen, unknown child and Adam Dumpert
(Adults Sitting - Front Row - Left to Right)
Elizabeth "Lillie" Nevins Menke holding child, Maria "Minnie" Philmina Menke Hammond holding child, Anna Barbara Menke Barkmeier with children Louis and Rose on her right, Ella on left and Helena "Lea" on lap, Anna Marie Becker Menke, Mary Menke Jansen and children, Fredericka "Rica" Menke Dumpert
and children
---