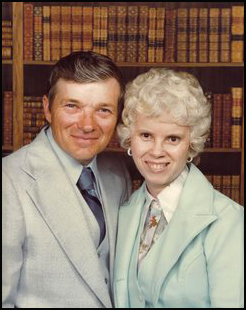 Richard Roy and Elizabeth Ann Menke Hansen


Marriage
of
Elizabeth Ann Menke and Richard Roy Hansen
---
The altars of St. Stephen's Catholic Church of Exeter were beautifully decorated with spring flowers for the wedding, Wednesday morning, June 1, 1949, of Miss Elizabeth Ann Menke, daughter of Mr. and Mrs. John Menke, to Richard Roy Hansen, son of Mr. and Mrs. Roy Hansen of Harlan, Iowa.
Rev. Koros of St. Peter's Church of Omaha officiated at the double ring ceremony and the Nuptial Mass following the ceremony. Mrs. Jerome Harre, cousin of the bride, at the organ played the wedding music and accompanied the St. Stephen's choir when it sang the Mass, "In Honor of St. Aloysius" by J. C. Tanner, and Vernon Heinz of York, cousin of the bride, who sang "Ave Maria" by Rosewig preceding the ceremony and "Panis Angelicus" by Cesar Franck during the offertory.
The bride, who was given in marriage by her father, chose for her wedding a gown of white Marka sheer, styled with a round yoke outlined with Alencon lace forming a bertha collar. The sleeves were long and tight and came to points at the wrist. The graceful skirt fell to floor length from a fitted bodice and ended in an aisle wide train. Miniature buttons and loops completed the trim of the gown. Her veil of shear illusion fell from a halo of seed pearls to finger tip. Wide Alencon lace trimmed the entire veil. She carried an arm bouquet of white and American beauty roses and fern leaves tied with white satin bows and streamers of white tulle.
The bride chose as her maid of honor, Miss Lorene Hansen, sister of the bridegroom, who wore blue taffeta, having a fitted bodice, sweetheart neckline, and full, floor length skirt with matching gloves, coronet and veil. Mrs. Charles Mooberry of Lincoln, sister of the bride, and Miss Merna Due were bridesmaids. Mrs. Mooberry wore orchid sheer with fitted bodice and short sleeves. The yoke outlined with white embroidered dots and the same embroidery formed bands in the upper part of the full, floor length skirt. Miss Due was in lime green taffeta with sheer over the skirt. They wore matching braided coronets and shoulder length veils and carried nosegays of pink carnations and fern.
Ruth Ann Karstens of Avoca, Iowa, cousin of the bridegroom, was flower girl and Tommy Tieso, nephew of the bride, the ring bearer. John Menke, brother of the bride, was best man and the other attendants were Donald Poole of Harlan, Iowa, cousin of the bridegroom and William Kohl of Portsmouth, Iowa. Ralph Leif, cousin of the bride, of Omaha, and Charles Mooberry of Lincoln, brother-in-law of the bride, were ushers.
Mrs. Hansen is a graduate of St. Stephen parochial school and the Exeter High School and has attended St. Elizabeth hospital school of nursing in Lincoln. Mr. Hansen is a graduate of Tennant High School and the Commercial Extension Business College in Omaha. He has been employed by the Phillips Petroleum Company in Omaha.
Following the ceremony, a breakfast for forty relatives and friends was served at the home of the bride's parents and a reception in the afternoon was attended by about seventy-five.
Pink and white peonies, daisies and iris were used throughout the room at the home for both breakfast and reception.
The reception table was covered with a hand crocheted cloth. A large three-tiered wedding cake topped by a miniature bride and groom was over a large mirror in the center of the table, flanked on each side by tall pink tapers, set in crystal holders.
The breakfast was prepared by Mrs. John Leif, Mrs. John Morgan, Mrs. Vaclav Krejci, Mrs. Ed Coffey, Mrs. Paul Becker, Mrs. Leo Erdkamp, Mrs. Matt Wiszmann, Mrs. Henry Delaney and Miss Laura Moravec, friends and relatives, and served by Mrs. Tommy Votipka, Mrs. Arnold Geiger, Mrs. Eyvonne Plettner and Marilyn Murphy, class and schoolmates of Mrs. Hansen.
For traveling, Mrs. Hansen chose an aqua shantung suit with white and black accessories and a shoulder corsage of red and white roses.
Relatives from a distance besides the wedding party and bridegroom's parents and sister were Mrs. F. W. Boettger of Harlan, his grandmother; Emil Hansen of Portsmouth, his grandfather; Mr. and Mrs. Harvey Poole, Mrs. Martha Buck, Mr. and Mrs. W. A. Boettger and Mr. and Mrs. LeRoy Buck of Harlan; Mr. and Mrs. Harold L. Karstens and Ruth Ann of Avoca, Iowa; Mr. and Mrs. Russell Kern and Mr. and Mrs. W. V. Starry of Tennant, Iowa; Mr. and Mrs. Alvin Carlson and daughter Shirley of Superior, Iowa, and Mrs. James Schuller and son Michael of Rochester, Minnesota.
Nebraska Signal
Geneva, Nebraska
Thursday, June 16, 1949
---
Obituary
Richard Roy Hansen
---
Richard Roy Hansen, 86, of Ankeny, Iowa passed away at the Madrid Home on September 13, 2015 after prolonged illness from pancreatic cancer and Alzheimer's disease.
A funeral Mass will be held 1:00 p.m., Friday, September 18, 2015 at Our Lady's Immaculate Church in Ankeny, IA. A visitation will be held Thursday, September 17th, from 5 to 7:00 p.m., with Rosary at 4:45, and prayer service at 7:00 p.m., also at the church.
Richard was born in Shelby, Iowa on March 25, 1929 to Roy Peter and Frieda Boettger Hansen. He graduated from Tennant High School and attended business school in Omaha, Nebraska.
At a dance in Burress, Nebraska, he won a bet between friends by successfully asking a pretty girl across the room to dance. He and his soul mate, Elizabeth Menke of Exeter, Nebraska, married in June 1949, and shared over fifty happy years together before Elizabeth's death in 1999.
While living in Omaha, Richard helped his father on the farm and held an office position at Phillips Petroleum. After marrying and moving back to Iowa, he farmed ground in Shelby County, and later Crawford County. After leaving the Crawford County farm, he took a job as a foreman on a turkey and grain farm near Kirkman, Ipwa. When the opportunity became available, he moved his family to central Iowa, and for 25 years, until his retirement, he was proud to be an employee of the Iowa State University Agronomy Department, working on research farms in Ankeny and Ames, Iowa. Despite sometimes holding two jobs, he always had time for his family. There were many fond memories of baseball games - he was a great pitcher, first bike riding lessons, tractor rides, drives into town for a hamburger - a rare treat, and Squeak tournaments - always with a mischievous twinkle in his eye.
After retiring from the Iowa State research farm, Richard enjoyed life with his wife, children, and later, grandchildren and great grandchildren. He was able to spend more time on his carpentry and woodworking hobbies, a passion he inherited from his father. His love for farming became an ambitious hobby, as he and his son meticulously restored several vintage 2-Cylinder John Deere tractors, which he and his family drove in Ankeny, Ames, and other local area parades for many years. He loved seeing the joy on children's faces as he drove by, and was happy to show his tractors to other John Deere enthusiasts. Richard had a great sense of humor, and loved to make his children and grandchildren laugh. He had a saying: when a long project was drawing to a close, and you remarked that this was finally the last step, he would say, with his famous smirk and twinkle in his eye, "Well, why didn't you start with that one?"
Richard is survived by his children; Sherri (John) Webb, Connie (William) Esker, Rick (Lisa) Hansen, and Cindy Hansen; Grandchildren, John Webb III, Robert Esker, Heather Webb, Elizabeth Hayslip, Christine Petty, Ashley Alloway and April Hansen. Great grandchildren, Randy, Eric and Emily Webb, Liliana and Sydney Esker and Harley Bleu Hayslip; a sister, many nieces, nephews, cousins and friends.
He was preceded in death by his parents, Roy and Frieda, an infant sister, Mary Ann, and his wife, Elizabeth.
Richard was very proud to be an Iowan, and his love for the land was apparent. After retirement, he often talked about how important farming was in feeding the world. Memorial funds will be established for a one-time agronomy student scholarship at Iowa State University in Richard's name, the Bell Tower fund at OLIH church, and research for pancreatic cancer and Alzheimer's disease.
Richards's family would like to give a special "thank you" to Mary Jo Wickman, patient care manager at Wesley Life Hospice and the care providers at Madrid Home.
Once you have lived on the land, been a partner with its moods, secrets, and seasons, you cannot leave. The living land remembers, touching you in unguarded moments saying, "I am here. Your are part of me." - Ben Logan

http://hosting-24883.tributes.com/obituary/show/Richard-Roy-Hansen-102853456
---

Family
of
John and Elizabeth Nevin Menke
(Standing - Back Row - Left to Right)
Alma (Menke) Devaney, Ann Catherine (Menke) Mooberry, Geraldine (Menke) Tieso,
Arliene (Menke) Ragan, Mary (Menke) Vavrina and Joanna (Menke) Schuller

(Sitting - Front Row - Left to Right)
Elizabeth (Menke) Hansen, John Menke, Elizabeth "Lillie" (Nevin) Menke and
John "Johnny" Menke, Jr.