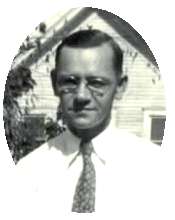 Joseph Henry Barkmeier, son of George Henry and Anna Catharine (Wiszmann) Barkmeier, was born near Exeter Nebraska on July 30, 1900. He attended St. Stephen's Catholic School in Exeter and Spaulding Academy in Spaulding, Nebraska. He graduated from Creighton University in Omaha, Nebraska in 1922, where he developed a life-long love of college basketball. He was greatly admired by family members for deferring his career to care for his father, George, during his terminal illness with cancer. His father died December 31, 1922.
Joe's entire working career was spent with the United States Department of Commerce in Washington D.C. He earned a graduate degree from Georgetown University Foreign Service School and later earned a law degree from the Catholic University of America in Washington, D.C.
Joe married Hope Drusilla Wade on September 19, 1929. Hope was born in Clinton, Iowa on June 13, 1897. They settled in Bethesda, Maryland, and to this union were born two children, Anne Kay (Barkmeier) Bowen Lawrence on April 26, 1931, and Paul Joseph Barkmeier on July 25, 1932.
Joe was renowned among his relatives for his hospitality and for his duties as a tour guide for visitors. Joe retired in 1960 as Director of the British Commonwealth Division of the Department of Commerce. One of Joe's favorite recollections was being invited to the British Embassy and meeting Queen Elizabeth on one of her rare state visits to Washington.
On October 2, 1977, Joe died of a heart attack at home while watching a Washington Redskins football game on TV. Hope died in Prescott, Arizona on February 21, 1988. Joseph and Hope are entombed at the Gate of Heaven Mausoleum in Bethesda.

Delta Phi Epsilon Professional Foreign Service Fraternity
Special thanks to Claude H. Barkmeier for providing photographs of Joseph and Hope and information for this biographical sketch.
---

Children of Joseph and Hope (Wade) Barkmeier
Anne K. (Barkmeier) Bowen Lawrence | Paul J. Barkmeier