Obituary
Loyola Jane (Becker) Votipka Kaiser
---
Loyola Jane Becker Votipka Kaiser was born to Paul and Clara Noel Becker on the family farm southeast of Exeter on April 11, 1927. She was one of eight children. She passed away on May 5, 2019 at the Utica Care Center in Utica, Nebraska. She had just celebrated her 92nd birthday on April 11th.
Jane met Rueben F. Votipka at a dance in Burress, Nebraska. They married on September 22, 1950 at St. Stephen Catholic Church in Exeter, Nebraska and lived on a farm east of Geneva, Nebraska. They had two children, James R. Votipka and Carol J. Votipka. Rueben was killed in a car accident on February 17, 1955.
She remarried on August 16, 1956 to Albert A. Kaiser. They had one daughter, Paula A. Kaiser. They were winter Texans for many years. They enjoyed Mexico and swap meets.
Jane started grade school at District 72 for four years and graduated from 8th grade from St. Stephen Catholic School in Exeter, Nebraska. She graduated from Exeter High School in 1944. She took normal training in high school and summer school at the University of Nebraska - Lincoln. She started teaching the first year in the fall of 1944 by rideing a horse to District 94, where she taught for two years. She later bought a Model A Ford car from John (Peas) Becker for $100. She then taught four years at District 22. She had many fond memories of her teaching days and bragged about her students.
She was a charter member of the Lady Birds Extension Club. She was member of the American Legion Auxiliary Post 218 in Exeter, Nebraska, where she was a Gold Star sister. She was a member of St. Stephen Catholic Church of Exeter, where she taught CCD for several years. She enjoyed two overseas trips with her sister Cenie. One included Germany, Austria, Switzerland and Italy and the other Norway, Sweden and Denmark.
Jane was preceded in death by her parents, her two husbands and six of her siblings. They were Theresa Kelch, Arthur Becker, Max Becker, Paul Becker, Alice Folkers and Bona Rust. Also, son-in-law Don Harris and sister-in-law Lavonne Vitello.
Jane is survived by her son, James (Judy) Votipka of Geneva, Nebraska, granddaughter Claire (Brad) Kosmicki and their children Elizabeth Grace, William, and Grant of Pocatello, Idaho. A daughter, Carol Votipka Harris of Concord, North Carolina and her children, grandson Chris Harris of Charlotte, North Carolina and granddaughter Kari Harris of Charleston, South Carolina. A daughter Paula (Randy) Kaiser-Asmus of Lincoln, Nebraska, and grandson Matthew (Gina) Yakel and their children Billie Deana and Mazzy Jane of Yorktown, Texas.
She is also survived by a sister, Cenie Sackschewsky of York, Nebraska and many nieces and nephews that were special to her. Also, two surviving cousins, Alfred Crick of Omaha, Nebraska and Don Milroy of North Platte, Nebraska.
Praying of the Rosary was held on Thursday, May 9, 2019, at 7:00 p.m. at St. Stephen Catholic Church in Exeter, Nebraska.
A Memorial Mass of Christian Burial was held on Friday, May 10, 2019, at St. Stephen Catholic Church in Exeter, Nebraska with Monsignor Daniel Seiker presiding along with concelebrant, Father Maurice Current.
Inurnment was held on Friday, May 10, 2019, at 2:00 p.m. at the Bohemian National Cemetery in Milligan, Nebraska.

---
Obituary
Rueben F. Votipka
---
Rueben F. Votipka passed away at the Geneva hospital, Thursday evening, February 17, 1955, less than two hours after he had received injuries in an auto accident four miles east of Geneva.
Rueben F. Votipka, son of Mrs. Pauline Svec Votipka and the late Frank B. Votipka, was born near Geneva, Nebraska, June 2, 1925. He died February 17, 1955, aged 29 years, 8 months and 15 days.
He attended school in District 65 and later in Geneva High School, until he was a Junior. Then, it became necessary for him to take over the farm work at home, because of the illness of his father, who was an invalid for many years. Rueben assumed the numerous responsibilities willingly.
September 26, 1950, he was united in marriage at St. Stephen Catholic Church in Exeter to Jane Becker, daughter of Mr. and Mrs. Paul Becker of Exeter This union was blessed with two children, James Rueben, nearly three years old and Carol Jane, almost two.
Rueben entered his country's military service on April 17, 1951, being stationed at Camp Gordon. Upon receiving an honorable discharge, he returned to his farm duties.
He was a kind and loving father and son, who will be greatly missed by all that knew him. He was an energetic farmer, always ready to lend a helping hand to anyone who needed it. The many beautiful floral tributes gave evidence of the esteem in which he was held.
He is survived by his loving wife and the children who were his pride and joy, his mother, and many other relatives and friends.
Funeral services were held at at St. Joseph Catholic Church in Geneva at 10 a.m., February 21st, with Reverend Paul Ulenberg officiating.
Pallbearers were Jerome Gergen, Frank Bures, Richard Manning, William Novak, James Rohla and Edward Srajhans. He was laid to rest near his father in the Bohemian National Cemetery in Milligan. Military honors were given by the American Legion at the grave concluding with taps.
CARD OF THANKS
We wish to take this means of expressing our appreciation and thanks to relatives, neighbors and friends, the American Legion and Veterans of Foreign Wars, and the Altar Society of St. Joseph Church for their many kind deeds, also those who sent cards and flowers, and for the Mass offerings at the time of the death of our loved one.
Mrs. Rueben Votipka
James and Carol Jane
Mrs. Pauline Votipka
Mr. and Mrs. Paul Becker
Fillmore County News
Exeter, Nebraska
March 3, 1955

---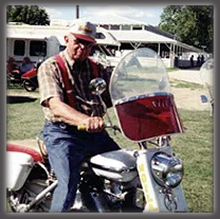 Obituary
Albert Asa Kieser, Jr.
---
Albert Asa Kaiser was born on February 9, 1929 at Dr. Stratton's medical office in Exeter, Nebraska and lovingly welcomed into the Albert and Anna Marie Becker Kaiser home as their own. Albert was officially adopted in 1930. Albert was a lifetime native of Exeter growing up on the family farm north of Exeter. He attended rural school at District 24 in Fillmore County. He was a lifetime member of St. Stephen Catholic Church, where he was baptized and confirmed. Albert passed away surrounded by family at the the Exeter Care Center on January 19, 2015.
Albert worked for Ervin Volkmer on a combining crew traveling traveling throughout Nebraska, Kansas and Oklahoma harvesting crops from the fields.
Albert joined the Armed Forces in 1950, serving with the Army. He was stationed at Fort Riley, Kansas until going to Korea, where he served with the 31st Engineer Battalion, 15th Infantry Division Service Company. Albert re-enlisted and served his country until 1953
Albert married Loyola Jane Becker Votipka on August 16, 1956. He became a Step-Father to Carol Jane Votipka. Carol will tell you she had a Daddy, but in Albert she had a Dad. To this union, was born daughter Paula in 1959.
Upon returning from the Service, Albert went to work for Bill Styskal at Styskal Well Drilling. After several years of working for Styskal Well Drilling, Albert took on the additional task of farming the family farm, eventually making farming his career. Albert also started farming with Bill Styskal and Bill's brother Fritz in a venture that continues to this day. Albert also started farming for the Schultz family based on a handshake. That honored handshake lasted 40 years with Albert's retirement at the age of 80.
Albert, with his female crew of helpers, worked the fields in the summer. Knowing what hot miserable work it was moving pipe, Albert would cool off the crew by tipping his end of the pipe higher emptying any remaining water out the other end, drenching whoever was at the lower end. The workers quickly learned this was going to happen, they just never knew when. Albert always kept his fishing poles in the bed of his pickup just in case the water wasn't quite to the end of the row and not wanting to waste time doing nothing, he treated the crew to a little fishing, while they waited or sometimes setting up target practice and teaching them to shoot.
Albert and Jane became snowbirds, traveling to Texas in the winter months. Wintering in Texas was something that Albert looked forward to, and he was always happy when someone from Exeter would want to come to visit their piece of paradise on earth. Albert also enjoyed restoring antique tractors. His biggest love was restoring Cushmans. Amassing a collection that Jane was aware of and some that she didn't know he had. The pride of his collection was his Eagle and Silver Eagle scooters, which he loved taking to surrounding towns to ride in parades or riding one around Exeter. He also was an avid fisherman and hunter.
Albert started his search for his biological sister in 1963, with the few details he was given regarding being adopted. Finally in 1998, he found his sister LaVonne Vitello in Denver, Colorado. This caused Albert great joy. He and LaVonne met and became an instant family, building bonds that were never broken.
Albert was a kind an honest man, quick with a smile and a friend to all. Always willing to help wherever and however he was needed. Albert did his best to live his life to the fullest and to enjoy every minute that he was given.
He was preceded in death by his parents, Albert and Anna Marie Kaiser, parents-in-law Paul and Clara Becker and son-in-law Donald Harris. Albert leaves behind his wife, Jane, of 58 years, daughter Paula Kaiser-Asmus and son-in-laws Randy of Lincoln, Nebraska, Carol Votipka Harris of Concord, North Carolina; sister LaVonne Vitello of Denver, Colorado, brother-in-law Paul and Irma Becker of Lincoln, Nebraska; and sister-in-law Alice Folkers of Lincoln, Nebraska. He was blessed with four grandchildren: Claire, Matthew, Chris and Kari and five great grandchildren; Elizabeth Grace, Will, Billie Deana, Grant and Mazzy Jane; many nieces and nephews and nephews; and step-son Jim and Judy Votipka of Geneva, Nebraska.
A Rosary was held on Sunday, January 25, 2015 at 7:00 p.m. at St. Stephen Catholic Church in Exeter, Nebraska.
A Memorial Mass for Albert was held on Monday, January 26, 2015 at 11:00 a.m. at St. Stephen Catholic Church in Exeter. Inurnment was held following the Mass in the Exeter Cemetery with Military Rites performed by the Exeter American Legion William Sullivan Post 218.
---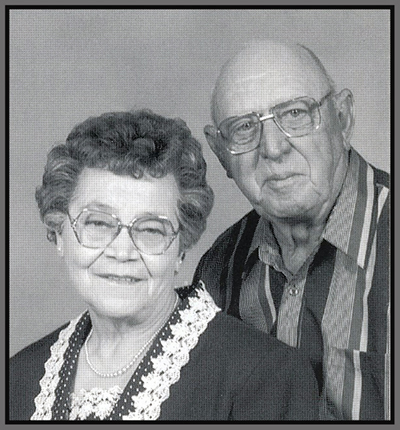 Jane and Albert Kaiser