William Bernard and Constance Winifred Emanuel Menke
Mr. and Mrs. William Jansen, Mr. and Mrs. August Barkmeier, Miss Sophia Dumpert and John Menke, went to North Bend, Tuesday to attend the wedding of William Menke of Exeter and Miss Constance Emanuel of North Bend. The young couple are spending their wedding trip in Colorado and California. On their return they will live on the groom's farm three miles east of town.
Fillmore County News
Exeter, Nebraska
Thursday, September 7, 1916

EMANUEL-MENKE
---
Tuesday, September 5, a bright fall morning, ushered in the day on which Miss Constance Emanuel and William Menke plighted their marriage vows.
The ceremony was performed by the Rev. Father Schopp of Snyder, who celebrated High Mass assisted by the Ridgeley choir. Miss Lorena Powers played the wedding march. The bride and groom were attended by Miss Anna Mary Emanuel of Wray, Colorado and Henry Menke of Exeter. The natural charms of the bride were enhanced by her beautiful wedding gown of white satin trimmed with net and gold thread. Her skirt was caught with orange blossoms. Her veil was held in place with snapdragons and smilax. The bridesmaid was attired in a charming gown of pale blue messaline trimmed in Irish point lace. Her hat was white felt trimmed in ostrich plumes.
After the ceremony, a sumptuous wedding breakfast was served at the home of Mrs. John Emanuel, an aunt of the bride, who has reared her from childhood. She is the second daughter of J. N. Emanuel of Wray, Colorado. The groom is the youngest son of Mrs. Anna Menke of Exeter, Nebraska and is held in high esteem by all who know him.
Numerous gifts attested the esteem in which Mr. and Mrs. Menke are held by their many friends. They left Wednesday on an extended trip in the west, stopping at various places in Colorado and California, after which they will be at home on the groom's farm at Exeter.
Guests from away were: Mrs. Anna Menke, Will Jansen, Mr. and Mrs. August Barkmeier, John and Henry Menke and Miss Sophia Dumpert, all of whom motored down from Exeter, and Miss Anna Mary Emanuel of Wray, Colorado.

Fillmore County News
Exeter, Nebraska
Thursday, September 21, 1916
(Reprinted from the North Bend Eagle)
---

Family
of
Louis and Anna Marie Becker Menke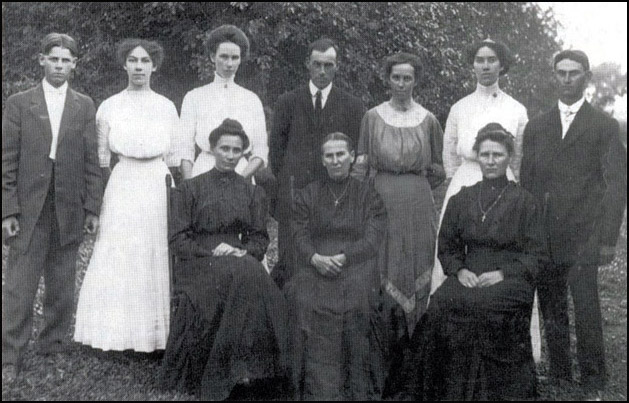 (Standing - Back Row -Left to Right)
William "Billy" Menke, Helena "Lena" Menke Matthews,
Philmina Maria "Minnie" Menke Hammond, John Menke,
Anna Barbara Menke Barkmeier, Sophia Menke Matthews and Henry Menke
(Sitting - Front Row - Left to Right)
Fredericka "Rica" Menke Dumpert, Anna Marie Becker Menke
and Mary Menke Jansen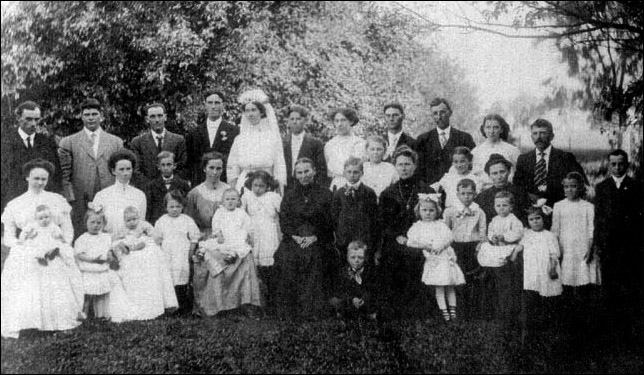 (Standing - Back Row -Left to Right)
John Menke, Frank Hammond, August Barkmeier, William Matthews, Sophia Menke Matthews, William "Billy" Menke, Helena "Lena" Menke Matthews, Henry Menke, William Jansen, unknown child and Adam Dumpert
(Adults Sitting - Front Row - Left to Right)
Elizabeth "Lillie" Nevins Menke holding child, Maria "Minnie" Philmina Menke Hammond holding child, Anna Barbara Menke Barkmeier with children Louis and Rose on her right, Ella on left and Helena "Lea" on lap, Anna Marie Becker Menke, Mary Menke Jansen and children, Fredericka "Rica" Menke Dumpert
and children
Wedding Day of Sophia Menke and William "Bill" Matthews
May 31, 1911