Obituary
Henry N. Menke
---
Henry Menke was born September 10, 1891, near Exeter, the son of Louis and Anna Menke. He departed this life August 21, 1954, at the age of 62 years, 11 months and 21 days.
May 14, 1981, he married Josephine Becwar. An infant son, Joseph Henry and his sisters, Mrs. Rica Dumpert, Mrs. Mary Jansen and two infant brothers preceded him in death. He is survived by his wife, a daughter Evelyn (Mrs. Roger B. Quincy, Jr.) and son Bernard; grandchild, Elizabeth Ann Menke; sisters, Mrs. Anna Barkmeier, Mrs. Minnie Hammond, Mrs. Will Matthews; brothers John Menke and William Menke; and many nieces and nephews.
Henry was a devout Catholic, devoted to his family and friends, considerate and helpful to all.
His life was one of industrious labor from boyhood, and death came suddenly while Henry was at work.
Fillmore County News
Exeter, Nebraska
Thursday, August 26, 1954
---

Obituary
Josephine C. Becwar Menke
---
Josephine C. Menke was born to Anton Becwar and Marie Bures on March 17, 1896 at Exeter, Nebraska, Fillmore County, and passed away on May 28, 1983, at Geneva at the age of 87 years, 2 months and 11 days. She was one of 11 children in the family.
Josephine lived her entire life in the Exeter Community and attended Exeter High School.
She was united in marriage to Henry Menke of Exeter, Nebraska on May 14, 1918 and to them 3 children were born.
Josephine's main interests were her home, family and church activities. She was an active member of the Sunshine Home Demonstration Club and of the American Legion Auxiliary for many years. She greatly enjoyed gardening and shared her flowers and garden products with her many friends.
She was preceded in death by her husband Henry, in 1954, and by one son, Joseph, in 1921. Also by her parents, 3 brothers and 6 sisters.
She is survived by her son, Bernard W. Menke of Las Vegas, Nevada and daughter Mrs. Evelyn M. Quincy of Oak Ridge, Tennessee: by a sister, Katherine Kuska of Exeter. Also surviving are grandchildren: Elizabeth Menke Gray of Las Vegas, Nevada and Roger, Stephen, David and Gary Quincy of Oak Ridge, Tennessee.
Funeral services were conducted from the St. Stephen's Catholic Church in Exeter at 10 a.m., Wednesday June 1, 1983 with father Urban Schmitt officiating. Mrs. Henrietta Harre accompanied Mrs. James Rassette who sang "Ave Maria", "The Lord's Prayer" and "How Great Thou Art'. Pallbearers were Fred H. Bartu, Walter Dumpert, Roy R. Hall, Melvin Kuska, Marlowe Rogers and Robert Trauger. Interment was in the Exeter Cemetery with the Farmer Funeral Home in charge of arrangements.
Fillmore County News
Exeter, Nebraska
Thursday, June 16, 1983
---
---
Family
of
Louis and Anna Marie Becker Menke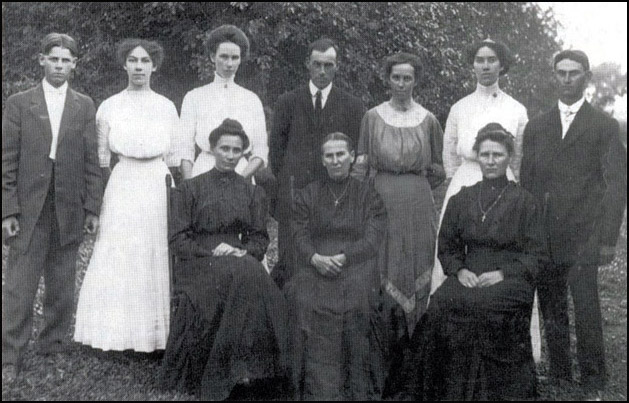 (Standing - Back Row -Left to Right)
William "Billy" Menke, Helena "Lena" Menke Matthews,
Philmina Maria "Minnie" Menke Hammond, John Menke,
Anna Barbara Menke Barkmeier, Sophia Menke Matthews and Henry Menke
(Sitting - Front Row - Left to Right)
Fredericka "Rica" Menke Dumpert, Anna Marie Becker Menke
and Mary Menke Jansen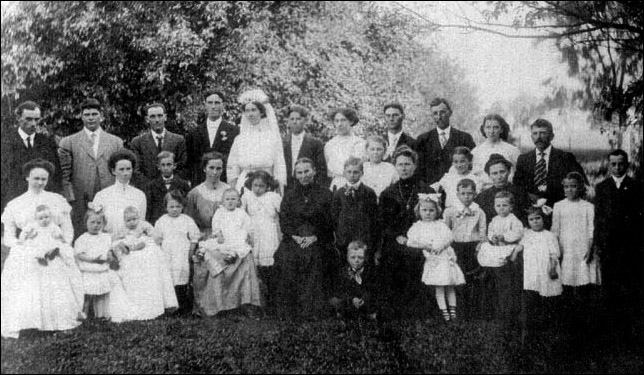 (Standing - Back Row -Left to Right)
John Menke, Frank Hammond, August Barkmeier, William Matthews, Sophia Menke Matthews, William "Billy" Menke, Helena "Lena" Menke Matthews, Henry Menke, William Jansen, unknown child and Adam Dumpert
(Adults Sitting - Front Row - Left to Right)
Elizabeth "Lillie" Nevins Menke holding child, Maria "Minnie" Philmina Menke Hammond holding child, Anna Barbara Menke Barkmeier with children Louis and Rose on her right, Ella on left and Helena "Lea" on lap, Anna Marie Becker Menke, Mary Menke Jansen and children, Fredericka "Rica" Menke Dumpert
and children
Wedding Day of Sophia Menke and William "Bill" Matthews
May 31, 1911