MENKE-NEVIN
The wedding of Miss Lillian Nevin, daughter of Mr. and Mrs. Patrick Nevin, and John Menke took place Monday morning, February 7, at 10 o'clock at St. Stephens's Catholic Church. The wedding ceremony was preformed by Father McDonald. Miss Lena Menke was maid of honor and William Nevin served as best man.
Following the ceremony, a wedding dinner was served at the groom's home, three miles southeast of Exeter, and about fifty guests were present. Many beautiful presents were received.
The young couple will reside on a farm owned by the groom, a well-to-do-farmer. The bride has been a member of the choir for several years. They are an estimable young couple and their many friends shower upon them all the best wishes for a happy and prosperous future.
Nebraska Signal
Geneva, Nebraska
Friday, February 19, 1910
---
Obituary
John Frederick Menke, Sr.
---
John Menke, Sr., son of Louis Menke and Anna (Becker) Menke was born December 4, 1979, on the family homestead east of Exeter and passed away at his home in Exeter, May 16, 1958, at the age of 78 years, 5 months and 12 days.
After the death of his father, when he was 20 years old, he took over the management of his mother's farms and helped with the care of his younger brothers and sisters as long as he was needed, being a devoted and loved son and brother.
On February 7, 1910, he was united in marriage to Elizabeth Anna (Lillie) Nevin, and moved to his own farm two miles east of Exeter, where they lived until retiring and moving to town in the fall of 1948.
To this union, eight children were born, seven daughters, Arliene Ragan, Mary Vavrina, Ann Catherine Mooberry, Joanne Schuller, all of Lincoln, Alma Devaney, Fullerton, California, Geraldine Tieso, Exeter, and Elizabeth Hansen, Manilla, Iowa; and one son, John Frederick, who preceded him in death.
John, as he was known to his friends, was a quiet unassuming person, highly respected by all who knew him, a devoted husband and loving father, who will be greatly missed by all.
One of his greatest pleasures was raising flowers, which he dearly loved, and caring for his garden after moving to town.
The rest of his time was mostly spent at the service station (Menke Hi-Way Cafe and Service Station) with his son, John. He never fully recovered from the sudden tragic death of his son, suffering a severe heart attack shortly afterwards, which caused him to be hospitalized for nearly a month, returning home on Christmas Eve, where he remained under the loving care of his family. He had seemed to be slowly improving until his relapse on Wednesday, May 14th, and died early Friday, being well fortified in his church, which was such a consolation and love to him.
Funeral services were held for him Monday morning, at 10:00 at St. Stephen's Church, with Msgr. Ingenhorst, the celebrant, assisted by St. Stephen's Choir, with Mrs. Jerome Harre, organist, the Altar boys, one of whom, Tommy Tieso, was a grandson. With six nephews, Lew Matthews, Harold Matthews, Jerome Leininger, Gene Cody, Lou Barkmeier and Walt Barkmeier acting as pallbearers, he was laid to rest beside his son, John, in the Exeter Cemetery.
He leaves beside his wife and daughters, 21 grandchildren, four sisters, Mrs. Anna Barkmeier, of Exeter, Mrs. Minnie Hammond of Fort Orchard, Washington, Mrs. Sophia Matthews and Mrs. Helena Matthews of McCool and one brother William Menke of Wray, Colorado, and many nieces and nephews.
His parents, two sisters, Mrs. Rica Dumpert and Mrs. Mary Jansen, one brother, Henry, and two infant brothers, preceded him in death. May he rest in peace.
Fillmore County News
Exeter, Nebraska
Thursday, May 29, 1958
---

Obituary
Elizabeth "Lillie" Anna Nevin Menke
---
Elizabeth Anna, Lillie, the daughter of Patrick and Christina (Noel) Nevin was born in Utica, Nebraska, on June 30, 1889, and passed away Monday, July 26, 1976, at the Fillmore County Hospital in Geneva, Nebraska, at the age of 87 years and 26 days.
Lillie, as she was known most of her life, spent her childhood days in Exeter and attended the local school. Prior to her marriage, she was employed as a telephone operator in Exeter for several years.
On February 7, 1910, she was united in marriage to John Menke at St. Stephen's Catholic Church. They moved to their farm east of Exeter. To this union eight children, seven daughters and one son, were born.
During her life time, Lillie was associated in many activities, especially the 4-Clubs and the Home Extension Clubs, having been a Leader and President for many years.
She was a very devout and active member of her church having served as the President of the Altar Society and the Parent-Teacher Association for a number of years. Her pride and joy was being a member of the church choir and was the organist for as long as her health permitted. Having been associated with the church choir for over 50 years, she received from Pope Paul the "Apostolic Benediction" in the field of music for extraordinary service to the church. This award was one of her most cherished possessions.
In the fall of 1948 John and Lillie retired from farming and moved into town and assisted their son, John, at the Menke Hi-Way Cafe and Service Station.
She continued with this business for eight years following the tragic death of her son, John F., in October 1957, and her husband's death in May 1958. In the spring of 1966 she sold the business to Bob Eckhart of Fairmont.
Because of poor health, she made her remaining years of life at the Memory Manor Nursing Home.
Funeral services were held Thursday morning July 29, at 10 a.m. at St. Stephen's Catholic Church with Msgr. Ingenhorst, the celebrant.
Six grandsons - Tom and Jim Tieso, Mike and John Schuller, Rick Hansen and Dan Vavrina acted as pallbearers. Burial was in the Exeter Cemetery.
Beside her husband and son, she was preceded in death by a daughter Arliene Ragan.
She is survived by six daughters: Mrs. Jack (Alma) Devaney of Fullerton, California, Mrs. Lu (Mary) Vavrina, Mrs. Eddie (Ann Catherine) Lebsack and Mrs. Jim (Joanna) Schuller all of Lincoln, Mrs. Richard (Elizabeth) Hansen of Ankeny, Iowa and Mrs. Frank (Geraldine) Tieso of Exeter; 25 grandchildren and 17 great-grandchildren; three sisters, Kathleen Dudgeon of Tacoma, Washington, Christina Kaspari of York and Loretta Myers of Exeter; and one brother, Walter Nevin of Lincoln.
Fillmore County News
Exeter, Nebraska
Thursday, August 12, 1976
---
Family
of
John and Elizabeth "Lillie" Nevin Menke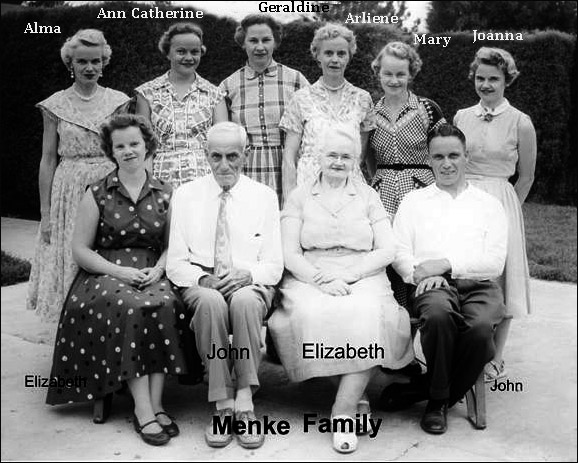 (Standing - Back Row - Left to Right)
Alma (Menke) Devaney, Ann Catherine (Menke) Mooberry Lebsack,
Geraldine (Menke) Tieso, Arliene (Menke) Ragan, Mary (Menke) Vavrina
and Joanna (Menke) Schuller
(Sitting - Front Row - Left to Right)
Elizabeth (Menke) Hansen, John Menke, Elizabeth "Lillie" (Nevin) Menke
and John "Johnny" Menke, Jr.

---
Menke Hi-Way Cafe and Service Station
Dave Hall moved his family to Exeter in 1935 and started in the garage and oil business four blocks west of the main street on U.S. Highway 6. After World War II when four of his sons returned, two of them, Ray and Howard, built an addition to the Hall garage and started a cafe. The business prospered, but they soon had other plans and sold the garage and the cafe to Mr. and Mrs. John Menke and son, John. The Menkes continued to operate the garage, station and cafe after young John's death, until 1962. The place had earned a reputation as a favorite of the young people. Mr. and Mrs. Eckhart owned the business for a few years, then sold it to Floyd and Annabelle Mason in 1966. They are still operating the place, with son Dale having taken over the garage end of the business the past two years.
THEY CALLED IT EXETER
The Exeter Centennial Book Committee
Exeter, Nebraska
1979