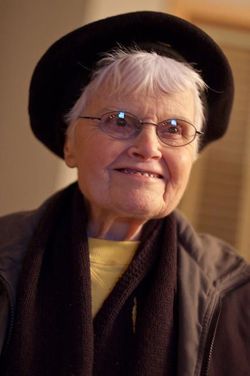 Joanna Rozell Menke Schuller


Marriage
of
Joanna Rozell Menke and James Joseph Schuller
---
The marriage of Miss Joanna Rozell Menke, daughter of Mr. and Mrs. John Menke of Exeter, and James Joseph Schuller, son of Mr. and Mrs. Gus Schuller of Faribault, Minn., was solemnized at St. Stephen's Catholic Church, Tuesday morning, February 10, 1948, at 10 o'clock.
Rev. A. A. Antochowski performed the double ring ceremony and was celebrant at the Nuptial High Mass. St. Stephen's senior choir sang the Mass of "The Little Flower," and "Ave Marie" for the offertory. George Rau played the wedding music and accompanied the choir.
The bride, given in marriage by her father, wore a floor length gown of white silk bridal lace over satin with full bouffant skirt set on a fitted bodice having a sweetheart neckline and long close fitting sleeves ending in a point over the hand. Her two-tiered fingertip veil of bridal illusion was edged in lace matching her dress and was held in place by a rhinestone studded cornet. She carried a colonial bouquet of white bride's roses and white carnations.
Miss Elizabeth Menke attended her sister as maid-of-honor. She wore peach taffeta frock styled with a full skirt and bustle back. The bodice was tight fitting with short bouffant sleeves. She sore a Mary Queens of Scots hat of taffeta and net matching her frock and carried a colonial bouquet of pink and blue carnations with short streamers of pale blue ribbon.
Miss Marion Schuller, the groom's sister, of Faribault, Minn., served as bridesmaid. Her gown of soft rose colored taffeta had a full skirt and short quilted bolero with short puffed sleeves and rounded neck line. Her Mary Queen of Scots hat of taffeta and net also matched her gown and her colonial bouquet of pink and blue carnations matched the maid-of-honor, also ending in short blue streamers.
Lois Dumpert, cousin of the bride, in a floor length white satin dress, a miniature hat of satin and net, styled the same as the bridesmaids and carrying a nosegay of pink carnations, was the flower girl, Wayne Barkmeier, also a cousin of the bride, in a white tailored suit with a black bow tie, carried the rings on a white satin pillow.
Charles Mooberry of Lincoln attended the groom as best man and Frank Tieso of Exeter served as usher. Both are brothers-in-law of the bride.
The bride's mother wore an afternoon gown of teal blue and her corsage was of pink and white carnations.
The groom and his attendants wore suits of blue, grey blue and grey and all wore white carnations in their lapels.
Following the ceremony, a wedding breakfast prepared by Mrs. William Dumpert of Exeter, Mrs. Jack Leininger of York and Mrs. Harold Dudgeon of Lincoln, cousin and aunts of the bride, was served to the immediate families, godparents and Rev. Antochowski as guest, at the home of the bride's parents. The tables had centerpieces of white and pink carnations, sweetpeas and ferns in crystal bowls flanked on either side by crystal candelabra with pink tapers.
A large three-tiered wedding cake, with miniature bride and groom standing before a white wedding bell, was used in the center of the table with crystal bowls of flowers and pink candles in crystal candelabra arranged on both side, making a pretty arrangement. Mrs. Charles Mooberry and Mrs. Frank Tieso had charge of the dinning room, with Mrs. Tieso pouring. The bride and groom cut the first piece of wedding cake. Each guest received a souvenir of the cake on leaving.
Mrs. Moobery had charge of the gift-table and Elizabeth Menke the guest book.
Mrs. Schuller attended St. Stephen's grade school and graduated from Exeter High School with the class of 1940. She is a graduate nurse of St. Elizabeth School of Nursing, finishing her course at Fitzsimmons Military Hospital in Denver. For the past two years she has served at the U.S. Marine Hospital in Chicago.
Mr. Schuller attended the school in Faribault, Minn., and served four years during the war with the Merchant Marine.
After a short wedding trip, they will make their home in Minneapolis, Minn., where Mr. Schuller has employment. For traveling Mrs. Schuller wore a grey and black striped tailored suit with black accessories.
Out-of-town guests for the wedding were Miss Helen Caren of Faribault, Minn., Mrs. Minnie Hammond of Martin, S.D., Mrs. Jack Leininger of York, Mr. and Mrs. Harold Dudgeon, Mr. and Mrs. Charles F. Moobery of Lincoln, Miss Marion Schuller of Faribault, Minn., and Mr. and Mrs. William Matthews of McCool.
Nebraska Signal
Geneva, Nebraska
Thursday, February26, 1948
---
Obituary
James Joseph Schuller
---
James J. Schuller, 72, 1820 South 47th Street, Lincoln, Nebraska died Wednesday, April 8, 1998. Retired salesman, member of Western Labor Association, a veteran of the Merchant Marine and member of American Legion Post 3.
Survivors: wife, Joann "Jo" Menke Schuller; son, daughter-in-law, Michael and Tonja Schuller, San Francisco, California; son, special friend, John Schuller and Gwynee Bailey, Lincoln, Nebraska; daughter, son-law, Sandy and John Krueger, Overland Park, Kansas; sisters, brothers-in-law, Joyce and Stan Kadalik, Faribault, Minnesota, Mary and Eddie Burns, Groveland, California, Gloria Lawlor, Fort Dodge, Iowa; grandchildren, Kama, John, Nick; nieces; nephews.
Services: 11 a.m. Monday, St. Teresa's Catholic Church, 735 South 36th Street with Father Joseph Nemec. Rosary, 5 p.m., Sunday, Butherus, Maser & Love Funeral Home, 4040 A Street. Visitation: beginning noon today, funeral home. Memorials to family.
Lincoln Journal Star
Lincoln, Nebraska
Friday, April 10, 1998
---

Obituary
Joanna Rozell Menke Schuller
---
Joanna R. (Menke) Schuller, born November 12, 1923, passed away peacefully surrounded by family on February 10, 2018 at the age of 94. (Known to many as Grammy Jo) JoAnna was one of eight siblings raised on a small farm outside of Exeter, Nebraska. After high school she graduated from St. Elizabeth's nursing program in Lincoln and immediately joined the WWII effort working in hospitals in both Denver and Chicago.
It was in Chicago where she met her future husband, James Schuller. They eventually settled in Lincoln and raised three children while JoAnna continued her long fulfilling nursing career which would span fifty plus years. In addition to work and family, she was an active member of St. Teresa Catholic Church, and after retirement she became an active volunteer in the St. Teresa parish. JoAnna also participated in numerous other volunteer activities and organizations. JoAnna's loving and caring nature carried over through her entire life, to her family, friends, and all those she met.
JoAnna was preceded in death by her husband, James Schuller; parents John and Lillian Menke; sisters, Alma, Arliene, Mary, Geraldine, Ann Catherine, and Elizabeth; brother, John. She is survived by three children, Michael Schuller and partner Yoko Konnai Schuller of San Francisco, Sandra and John Krueger of Overland Park, Kansas, and John and Lynne Schuller of Lincoln, Nebraska; grandchildren, Kama (spouse Steve) Johnson, John and Nicholas Krueger, and Jake Schuller; two great grandchildren, Ava and Madeline. Grammy Jo will be missed by all.
Mass of Christian Burial will be 10:00 AM on Thursday, February 15, 2018 at St. Teresa's Catholic Church, 735 South 36th. Father Jamie Hottovy will celebrate. Rosary will be 7:00 PM on Wednesday at Butherus, Maser & Love Funeral Home, 4040 A Street, Lincoln 68510. Visitation will be after 12:00 PM on Tuesday at the funeral home. Interment will be in Lincoln Memorial Park. Memorials to Tabitha Hospice, Catholic Social Services or the Food Bank of Lincoln.
Lincoln Journal Star
Lincoln, Nebraska
Tuesday, February 13, 2018
---

Family
of
John and Elizabeth Nevin Menke
(Standing - Back Row - Left to Right)
Alma (Menke) Devaney, Ann Catherine (Menke) Mooberry, Geraldine (Menke) Tieso,
Arliene (Menke) Ragan, Mary (Menke) Vavrina and Joanna (Menke) Schuller

(Sitting - Front Row - Left to Right)
Elizabeth (Menke) Hansen, John Menke, Elizabeth "Lillie" (Nevin) Menke and
John "Johnny" Menke, Jr.