Obituary
Scott Alan McAreavey
---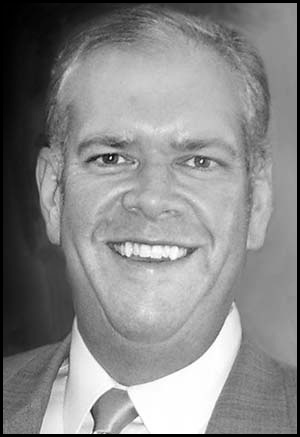 Scott Alan McAreavey, former Ponca City resident, died Wednesday, Jan. 23, 2008, in Woodridge, Ill. He was 42.
Family and friends will gather to celebrate his life at 10 a.m. Saturday, Jan. 26, in the Ponca City Poncan Theater. Local arrangements are under the direction of the Trout Funeral Home and Crematory. A Memorial Mass will be said at 10:30 on Tuesday, Jan. 29, at St. Patrick's Catholic Church in Montrose, S.D., with burial following under the direction of Kingzley Funeral Home in Salem, S.D.
Scott Alan McAreavey, son of Paul and Nancy Barkmeier McAreavey, was born in Sioux Falls, S.D. He graduated from high school in Elk Point, S.D., in 1983. He continued his education at Mount Marty College in Yankton, S.D., and earned a Juris Doctorate at Pepperdine University in Malibu Beach, Calif. in 1990.
Scott's career accomplishments included being a partner with the law firm of Gillette, Beaty, and McAreavey in Redfield, S.D., from 1991 to 1995. His career progressed to business manager at Northern Therapy and Rehabilitation in Ponca City from 1996 to 2007. His current position was director of operations for Midwest Fuel Injection in Bolingbrook, Ill., until the time of his death.
Scott loved life and lived it to the fullest. One of his greatest passions was music, and he thoroughly enjoyed going to concerts. He was a devoted "Parrothead" and had attended more than 40 Jimmy Buffett concerts across the country. He also had belief in the Chicago Cubs that only a true fan would know. He loved the adventure in traveling and made many new friends wherever he went. Scott was also very involved in the lives of his family and friends.
Survivors include his parents, Paul and Nancy McAreavey; fiancÚ, Barbara Rollins and her parents Don and Margaret Welch, all of Ponca City; siblings, Todd and Tracy McAreavey of Tonkawa, Darin and Renae McAreavey of Elk River, Minn., and Jason and Kim McAreavey Quam of Elk Point, S.D.; nieces and nephews, Preston, Shelby, Taylor, Trenton, Rian and Anne; aunts, uncles, cousins and numerous friends.
He was preceded in death by his grandparents, Don and Alyce McAreavey and Vincent and Maxine Barkmeier; one uncle, Joel Barkmeier; and one aunt, Mary Scheafer.
The family asked that in lieu of flowers, a kind deed to others be shown in Scott's memory.
Honorary casket bearers were John Shymanski, Jason Snyder, Marc LaBossiere, Erik Peitz, Jeff Slade and Ben Seidel.