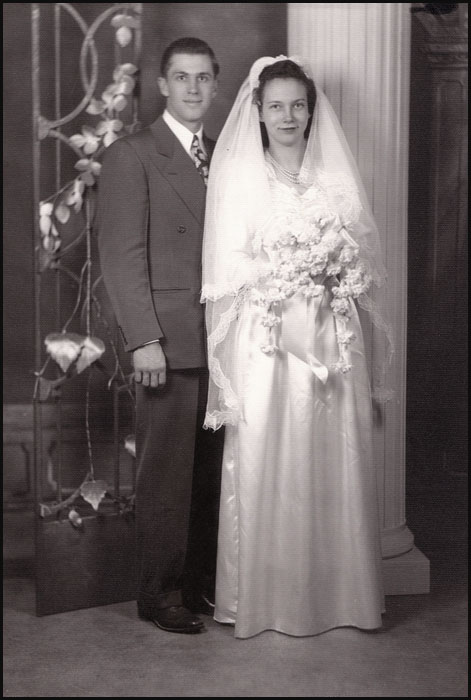 Thomas Dean Votipka
Anna Leah "Lea Ann" Morgan


Wedding Picture
November 10, 1947

---
MORGAN - VOTIPKA
In a ceremony solemnized at St. Stephen's Catholic Church at 9 o'clock Monday morning, November 10, Miss Lea Ann Morgan, daughter of Mr. and Mrs. John Morgan, became the bride of Thomas Votipka, son of Mr. and Mrs. Frank Votipka of Exeter. Rev. A. A. Antochowski officiated at the Nuptial High Mass, preceded by the double ring ceremony. The St. Stephen's choir with Mrs. John Menke, great aunt of the bride at the organ, sang the Mass of the Little Flower.
The bride, given in marriage by her father, was attired in a white satin bridal gown featuring a long sleeved shirred basque waist with a sweetheart neckline and long full skirt. Her finger tip veil was held in place by a crown of seed pearls. Her bridal bouquet was of white carnations. Her only ornament was a three-strand pearl necklace, a gift of the bridegroom.
Mrs. Votipka chose as her attendant, Mr. Votipka's sister-in-law, Mrs. Rex Votipka of Exeter. She wore a blue chiffon and lace dress with a fitted bodice ending in a peplum and a floor length skirt with back fullness. She wore a matching tiara and carried an arm bouquet of pink chrysanthemums.
Little Patricia Pospisil, cousin of the bride, as flower girl, wore a pink organdy floor length dress and carried a white basket of fall flowers. Thomas Erdkamp, cousin of the bridegroom, in a white suit, served as the ring bearer.
The bridegroom was attended by his brother, Rex Votipka of Exeter. Both men wore brown suits with white carnation boutonnieres.
The altar boys were Gary and Larry Ruhl, Thomas and Robert Dumpert, Edmund Krejci and Mathies Wiszmann.
A three-course dinner was served at 12:30 in the I.O.O.F. Hall by Mrs. William Dumpert and Mrs. John Krejci to members of the bridal party, immediate families and the grandparents.
A reception was held from 2 to 4 in the afternoon for relatives and friends of the bride and bridegroom. A color motif of pink and white was used throughout. Crystal bowls of white chrysanthemums, long white tapers, and a four-tier wedding cake topped by a miniature bride and groom were the table appointments.
Mrs. Votipka was graduated from the Exeter High School, class of 1947. Mr. Votipka also graduated from the Exeter High School with the class of 1940. During the war, he served four years with the armed forces, part of that time in the European sector of the war.
Out of town guests at the wedding were Mr. and Mrs. William Morgan Sr., of Omaha; Mrs. Josephine Votipka, Mr. and Mrs. Ed Steinacher and daughter Darlene, and Fred Crandall of Geneva; Mr. and Mrs. James Vavara, Mr. and Mrs. Louis Michl and family, Mr. and Mrs. Lewis Pospisil and family of Friend; Mr. and Mrs. James Bernasek of Milligan; and Mr. and Mrs. James Morgan and family of Beaver Crossing.
After a short wedding trip, Mr. and Mrs. Votipka will be at home in Geneva until the first of March, when they will move to the Votipka farm south of town.
Fillmore County News
Exeter, Nebraska
November 13, 1947
---