Obituary
Herbert Martin Thompson
---
Herbert Martin Thompson passed away Sunday evening at the home of his son-in-law and daughter, Mr. and Mrs. Walter Barkmeier, where he had been brought June 17 and faithfully cared for in the last days of a long illness.

The oldest child of Rev. John and Hannah Thompson, Mr. Thompson was born May 7, 1880, at Gibson City, Illinois, and was 64 years, 3 months and 20 days of age at the time of his death in Exeter, August 27, 1944. He was baptized in the Swedish Mission Church.

Moving to Thayer county, Nebraska, in 1903, he was united in marriage to Lena Birdella Zong at Belvidere, March 13, 1907. To this union were born four children, Pvt. W. Wayne Thompson, somewhere in England; Maj. Harold H. Thompson, somewhere in India; Mrs. Walter Barkmeier, Exeter; and Mrs. Howard Caples, Central City.

In 1909, the family moved to Gregory county, South Dakota, living there and in Boyd county, Nebraska, several years. In Boyd county, the entire family united with the Twin Buttes Methodist Church. In 1927 the family returned to Belvidere here Mr. and Mrs. Thompson have since made their home. They transferred their church membership to the Congregational Church at Belvidere.

Surviving in addition to the wife and children are three grandchildren, Dennis and Margaret Caples and Wayne Barkmeier; three brothers J. Ansgar and David of Osceola and Edgar of McHenry, Illinois; and two sisters, Lydia of Sierra Madre, California and Mrs Maybelle Thomas, Glendale, California. His parents, one brother, Elmer, and two sisters Ruth and Mrs. Hilma Haisch, preceded him in death.

Mr. Thompson was a highly respected citizen and good neighbor. He was a kind and loving father, no effort or sacrifice being too much for him to make for his family. Although he spent many years in weakness and suffering, he remained always patient and uncomplaining, thoughtful for the comfort of others. He was very hospitable and enjoyed nothing more than being surrounded by relatives and friends. He remained cheerful and liked to laugh and joke so that visitors to his sick room often left feeling that they had received more cheer than they had given.

Funeral services were held Wednesday, August 30th, at 1:00 p.m. at the Farmer Funeral Home in Exeter and at three o'clock at the Congregational Church in Belvidere. Burial was in the Belvidere cemetery.




---
Obituary
Lena Birdella Zong Thompson
---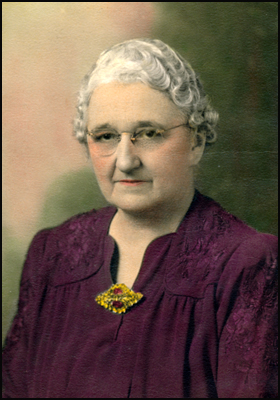 Lena Birdella Thompson, daughter of William C and Hannah Aten Zong, was born January 18, 1886, near Daykin, Nebraska, and died September 18, 1979, at Fillmore County Hospital in Geneva, Nebraska at the age of 93 years and 8 months.

At the age of 17 years, she moved with her parents and brother, Frank, to a farm near Belvidere, Nebraska. It was at this home, on March 13, 1907, that she was united in marriage to Herbert Martin Thompson, also of that community. To this union were born two sons and two daughters.

In 1909, the young couple moved to Tripp County, South Dakota and northern Nebraska until 1927, when they returned to Belvidere and were in the produce business until her husband's death in 1944. Since then she and her close friend Erma Thompson, shared a home, first in Lincoln, Nebraska and the last few years in Hebron, Nebraska.

Lena was a member of the United Methodist Church in Hebron and was also a member of the United Methodist Women.

Surviving are two sons: Wayne and his wife, Leona, of Bruning, Nebraska and Harold and his wife, Alice, of Lincoln, Nebraska; two daughters, Virginia Barkmeier and her husband, Walter, of Exeter, Nebraska and Vivian Caples and her husband, Howard, of Kansas City, Missouri; seven grandchildren, Betty McPherson of Hastings, Richard Thompson of Dauphin, Manitoba, Canada, Dr. Wayne Barkmeier of Omaha, Nebraska, Mrs. Roger Keil of Gresham, Mrs. Duane Luebbe of Beaver Crossing, Dennis Caples of Independence, Missouri, and Mrs. Duane Kirkpatrick of Des Moines, Iowa; fourteen great grandchildren; also nieces and nephews, other relatives and many friends.She was preceded in death by her parents, one brother and her husband.

Funeral services were held Friday, September 21st at 2 p.m. at the United Church of Christ in Belvidere with Reverend Fred Richart officiating. Mrs. Max West and Mrs. Larry Edwards sang "The Old Rugged Cross" and "Just A Closer Walk With Thee", accompanied by Mrs. Harold Uden. Casket bearers were the grandsons. Interment was in the Belvidere cemetery.
Services were conducted by Montgomery-Hacker Funeral Home, Hebron.