Obituary of Anna Marie Menke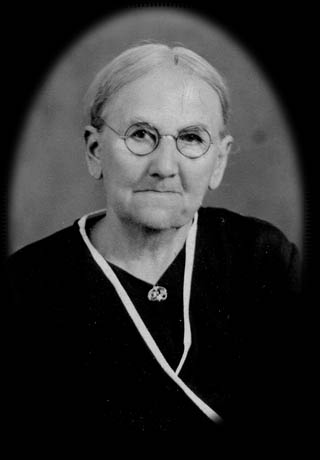 Anna Marie Becker, daughter of Bernard and Mary Becker, was born in Aussen, Germany, November 14, 1853 and died at her home in Exeter, Nebraska, September 3, 1936 at the age of 82 years, 9 months and 20 days.
In the year 1872, she, with her parents and one sister, came to America and was met by her three brothers, Peter, John, and Nicholas, at Dubuque, Iowa. Later the same year, they accompanied her brother Peter to Nebraska and located two miles east of Exeter on his homestead.
On February 23, 1873, she was united in marriage to Louis Menke in Lincoln, Nebraska. To this union eleven children were born, nine of whom survive, two sons having died in infancy.
The first years of her married life were spent on a homestead in York County near the Blue River, after which they moved to a home two miles east of Exeter, where she lived with her family after the death of her husband on January 24, 1899. In the spring of 1917, she moved to her present home in town.
Grandma Menke, as she was familiarly known to the community, was loved by everyone with whom she came in contact through her gracious and kindly hospitality.
She was a devout Christian and one of her greatest pleasures was daily attendance of Mass, and her chief interests in life were her church, family and home.
Funeral services were held in St. Stephen's Catholic Church in Exeter, Saturday, September 5, 1936, with Rev. E. Boll officiating and six of her grandsons as pallbearers.