Exeter Business District - Looking South - 1919
The first business on the right side (west side of Main Street) is Ziska's General Store. This was a family operated business of groceries and dry goods. The grocery stock was sold to Louis Barkmeier in 1928 and he moved the stock to another location. The Ziska sisters, Alice, Helen and Anna, continued in business until 1945. Louis Barkmeier and his wife, Lucile, bought the store and sold groceries, dry goods and wearing apparel. They sold the business to Gail and Barbara Heffelfinger in 1968. Gail and Barbara operated the store until a storm destroyed the building in July 1993.
The second business on the right is Phelps Drug Store. Guy Phelps and William Schreiner bought the store from Waller and Roeser in 1910. Guy and Josephine Phelps bought out the Schreiner interest and operated the business for more than 50 years. Fred Ekeler began working in the Drug Store in 1936. In the mid 50's, Guy and Josephine sold the business to Fred and Jean Ekeler, but quickly bought back into the business and formed a partnership which lasted until Guy's death in 1962. Fred died in 1968 and Jean operated the store for many more years.
The next business, a two story brick building, is the Wallace & Company Bank. The bank closed in 1933 as a result of the depression years. H.M. Link, Frank N. Craven, A.W. Dyer and L.T. Blouch opened the First National Bank at the same location on March 21, 1934. Elmer McCabe, son-in-law of H.M Link, joined the bank in 1939 and became President following the death of Mr. Link in 1961. James T. McCabe, son of Elmer McCabe, joined the bank in 1970. He now serves as President of the First National Bank and also operates a law office at the same location.
The fourth business on the right side of the street is the W.H. Taylor General Merchandise Store. Mr. Taylor operated the store until 1910 and then sold the business to his daughter and son-in-law, Ida and Lee Harold. They managed the business until 1927. Louis Barkmeier then operated a grocery business at this location from 1928 to 1945. Louis and his wife, Lucile, bought the Ziska building in 1945 and moved their business to the new location.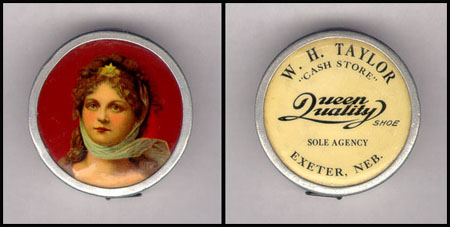 Measuring tape from the W.H. Taylor Store.