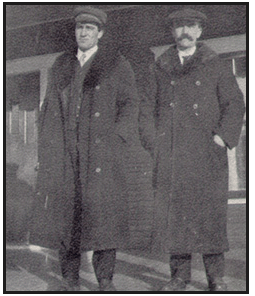 Frederick August Barkmeier (left) pictured with brother, George Henry Barkmeier
Frederick was born in Westendorf, Germany on August 26, 1887. He immigrated to America in 1889 with his parents, Frederick John and Mary Catharine (Tepe) Barkmeier, a sister and five brothers. He was only one year old when the family settled near Exeter, Nebraska. His oldest brother, Frank Ferdinand, immigrated to the United States in 1887 and worked to help provide funds for the other family members to immigrate to the United States.

---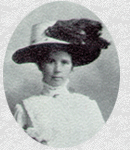 Fred married Clara Elizabeth Wiszmann, daughter of Christian "Henry" and Mary (Polzin) Wiszmann, on October 4, 1916.
To this union were born two children, Regina Dorothy (Barkmeier) Clark, born May 9, 1918, and Edmund Francis Barkmeier, born March 27, 1920.
Regina married Maurice John Clark on July 30, 1946. They were the parents of seven children: Sharon Marie (Clark) Cuda, Dennis John Clark, Shirley Ann (Clark) Scholz, Ronald Frederick Clark, Roger Jerome Clark, Allen Francis Clark and Michael Maurice Clark. Regina died August 10, 1999 and is buried in St. Joseph Cemetery, York Nebraska.
Edmund did not marry. He died November 18, 1977 and is buried in the Exeter Cemetery, Exeter, Nebraska.
Fred and Clara rented a farm southeast village of Exeter, Nebraska, and later owned a 160 acre farm just north and west of Exeter.
Clara died October 13, 1955 and Fred died April 29, 1971. Interment was in the Exeter Cemetery, Exeter, Nebraska.

WISZMANN - BARKMEIER

Miss Clara Wiszmann and Mr. Fred Barkmeier were married at St. Stephens's Catholic Church in Exeter, Nebraska on Wednesday morning, October 4, 1916, at nine o'clock, by Father Boll.

The attendants were Miss Celia Wiszmann, sister of the bride, and William Barkmeier, brother of the groom. The bride wore a navy blue broad-cloth suit, with hat to match, and the bride's maid wore a wisteria suit, with hat to match.

A sumptuous breakfast was served at the bride's home north of town, after the ceremony, for just the two families. They received many useful and costly gifts. The young couple will begin house-keeping on the grooms farm, three miles east of Exeter.

The News joins with their many friends in extending congratulations for a long, happy and prosperous life.

Fillmore County News
Exeter, Nebraska
October 5, 1916
---