Obituary
Virginia R. Barkmeier
Fillmore County News, Exeter, Nebraska - May 9, 1996
Virginia R. Barkmeier was born to Herbert M. Thompson and Lena B. Zong Thompson on March 12, 1913, at Herrick, South Dakota, and passed away May 4, 1996, at Friend Nebraska at the age of 83 years, 1 month and 22 days. She was the third of four children in the family.

She moved to a farm near Butte, Nebraska with her family in 1919 and then to Belvidere, Nebraska in 1927. She graduated from Belvidere High School. Following graduation, she managed the Belvidere Cooperative Credit Association and worked at the Fairmont Air Base during World War II.

She married Walter H. Barkmeier on September 29, 1941 and moved to Exeter, Nebraska. They had three children: Wayne, Wilma and Wanda. She was a devoted wife and loving mother.

She had many friends and enjoyed her association with these friends. She also engaged in many activities in the Exeter community over the years. She worked for a short time at the Exeter Post Office and for several years at the Exeter Community Nursing Home.

With the advancement of arthritis, she moved to Long-Term Care at the hospital in Friend, Nebraska, in the summer of 1991, where she died on May 4, 1996.

She was preceded in death by her parents, Herbert and Lena Thompson; husband, Walter; daughter, Wanda Luebbe; son-in-law, Duane Luebbe; and grandson, Brian Luebbe.

Survivors include her son and daughter-in-law Dr. Wayne and Carolyn Barkmeier of Elkhorn, Nebraska; daughter and son-in-law Wilma and Michael Miles of Omaha, Nebraska; brother, W. Wayne Thompson of Bruning, Nebraska; brother and sister-in-law Harold and Alice Thompson; sister and brother-in-law, Vivian and Lloyd Eickhoff of Gladstone, Missouri; seven grandchildren; a great granddaughter; nieces, nephews and many other relatives and friends.

Funeral services were conducted from the United Methodist Church in Exeter, Nebraska, May 8, 1996, with Rev. Melanie Adams officiating. Pallbearers were Wayne Barkmeier, Jr., Dennis Caples, Neal Elsberry, Gail Heffelinger, Duane Kirkpatrick, Thomas Luebbe and William Morgan. Mrs. Margaret Votipka accompanied Mr. Robert O. Rhodes who sang "I Know Who Holds Tomorrow" and "Precious Lord, Take My Hand". Interment was in the Exeter Cemetery in Exeter Nebraska with the Farmer Funeral Home in charge of arrangements.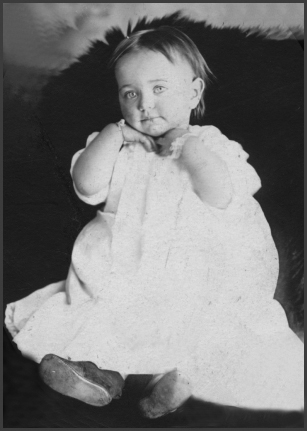 Virginia R. (Thompson) Barkmeier
11 months