August Frank Barkmeier and Anna Barbara Menke were married in 1902. A 1905 plat map of the Exeter Township in Fillmore County Nebraska showed that they owned a 80 acre farm east and south of the village of Exeter, Nebraska.
The plat map also shows that Frank Ekeler, who married August's sister, Anna Marie Barkmeier, owned an 80 acre farm to the east. The same plat map shows that Fred and Mary Barkmeier, August's parents, owned an 80 acre farm just east of the Ekeler farm. The farm owned by Frank and Anna Marie Ekeler was sold before 1910 to August's brother, George Barkmeier and his wife Anna Catharine. The farm owned by Fred and Mary Barkmeier was sold to Frank "Franz" Barkmeier, their son and brother of August and George. Frank and Anna Marie Ekeler and Fred and Mary Barkmeier each purchased 160 acre farms in the Fairmont Township in Fillmore County northwest of Exeter, Nebraska.
Plat Map - Exeter Township - Fillmore County - 1905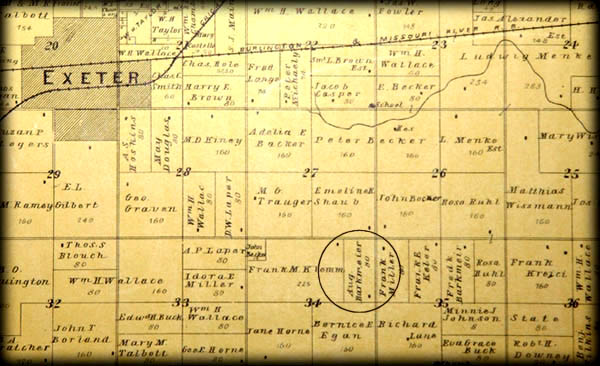 A 1918 Fillmore County atlas and plat map showed that they owned a 160 acre farm just north and west of their original 80 acre farm site. Their previous 80 acre farm site was listed in the 1918 atlas as being owned by August's brother, William "Bill" Barkmeier, and being rented by another brother, Fred Barkmeier, and wife, Clara.

From 1918 Fillmore County Atlas


Plat Map - Exeter Township - Fillmore County - 1918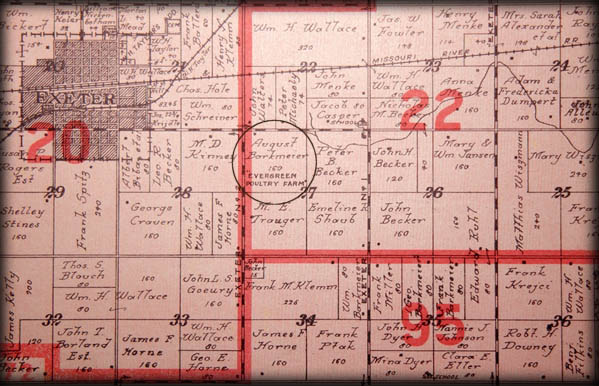 The Fillmore County News in Exeter, Nebraska reported on June 27, 1912 that August Barkmeier purchased the Hans Thompson farm of 160 acres at $125 an acre.
Evergreen Poultry Farm

August F. Barkmeier operated the Evergreen Poultry Farm. The poultry farm was named for a nicely shaped evergreen tree on the land. He was a breeder of White Leghorn and White Wyandotte chickens.
His daughter, Helena "Lea" Barkmeier, related in July of 2002, that her father August liked chickens and raised lots of snow white chickens. She also related that her brother, Louis, helped on the chicken farm, but could not remember if anyone else helped. She emphasized that "she did not."
August entered the chickens in judging contests at local fairs. Lea indicated that he won many large ribbons.
Many towns like Exeter had annual poultry shows. County and state fairs, the Chicago Coliseum and Madison Square Garden also held annual poultry shows. Exeter exhibitors won prizes at all of these shows. These individuals could command higher prices for hatching eggs, baby chicks and also for the prize winners.
The first hatcheries around Exeter were run by George Morris and August Barkmeier. By 1910, they both had as many as four incubators, each holding six hundred eggs. These incubators were heated by kerosene lamps. The eggs had to be turned every other day.
Baby chicks were sold locally or shipped by parcel post for quite some distances. George Morris and August Barkmeier discontinued their hatcheries about 1925.
Source:
They Called It Exeter
Exeter Centennial Book Committee
1979
---
Local Farmer Receives Honors for Chickens
August Barkmeier living south of town came out with high honors at the U.S. Fancy Chicken Exhibition held in Omaha, September 30 -- October 5. Mr. Barkmeier had an exhibit of four chickens from his flock of Rose Comb White Leghorns. He carried off four first prizes, one for each class exhibited. Exhibits were large and from a number of different states.
Fillmore County News
October 10, 1912
---
The Poultry Tribune - Volume 18 - 1912
American Poultry Yearbook - 1915
Poultry Success - Volume 26 - 1915
The Leghorn World - Volume 5 - 1922