August Frank Barkmeier was born in Westendorf, Germany on March 1, 1876. He was the son of Frederick John and Mary Catharine (Tepe) Barkmeier. He immigrated to America in 1889 and settled near Exeter, Nebraska, with his parents, six brothers, Frank Ferdinand Barkmeier, Henry Mathias Barkmeier, George Henry Barkmeier, John Ferdinand Barkmeier, William Frederick Barkmeier and Frederick August Barkmeier, and a sister, Anna Marie (Barkmeier) Ekeler. The family also raised Victoria Geyger who came to Exeter on an orphan train from New York City on September 4, 1901. She later became a nun, Sister Mary Raphael Geyger.

Anna Barbara (Menke) Barkmeier, daughter of Louis Menke and Anna M. (Becker) Menke, was born March 27, 1881 on a farm near Exeter, Nebraska. Anna's parents had eleven children and two of these children died as infants (Louis Menke and William Menke). Her other brothers were - John Menke, Henry Menke and William Menke, and her sisters were - Fredericka "Rica" (Menke) Dumpert, Mary (Menke) Jansan, Maria "Minnie" (Menke) Hammond, Sophia (Menke) Matthews, and Helena "Lena" (Menke) Matthews.

August and Anna were married April 15, 1902 and to this union eight children were born: Louis Frederick Barkmeier, Ella Mary (Barkmeier) Morgan, Rose Fredericka (Barkmeier) Alldritt Lilly, Helena "Lea" Cecelia Barkmeier, Walter Henry Barkmeier, Vincent August Barkmeier, Raymond John Barkmeier and Lillian Anna Barkmeier. August and Anna farmed near Exeter, Nebraska and later in life moved into Exeter.

August died in Friend, Nebraska on September 22, 1960. Anna died in Friend, Nebraska on March 8, 1962. Interment was in the Exeter Cemetery.
---
50th Wedding Anniversary
April 15, 1952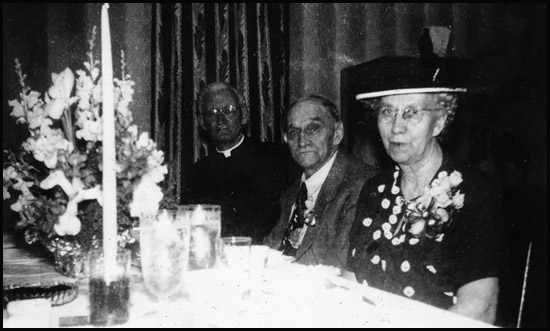 Msgr. Patrick J. Healy with August and Anna (Menke) Barkmeier
On Tuesday, April 15, 1952, Mr. and Mrs. August Barkmeier celebrated their Golden Wedding Anniversary. They and their children attended a Mass said for their intention by Msgr. Patrick J. Healy at 8 o'clock. Mrs. Clarence Myers, accompanied by Mrs. John Menke at the organ, sang "Ava Maria" and "On This Day O Beautiful Mother."
A dinner for the immediate family and Msgr. Healy was held at noon at the American Legion Hall. The tables, arranged in a "U" shape, were decorated with bouquets of assorted spring flowers, a three tier wedding cake and yellow tapers. Mrs. Joe Becker, Mrs. Christine Becker and Mrs. George Becker cooked and served the dinner.
Mrs. Barkmeier has been a lifelong resident of the Exeter Community. Mr. Barkmeier, born near Riemsloh, Germany, came to the United States and settled near Exeter in 1889, when he was thirteen years old.
They were married in St. Stephen's Catholic Church on April 15, 1902. They are the parents of eight children, five of whom -- Louis, Walter, Lea, Lillian and Mrs. Ella Morgan still reside in Exeter. Their son Raymond, his wife, and two children of Hampton, Iowa were here for the celebration. Vincent of Sioux Falls, South Dakota and Mrs. Rose Alldritt of Long Beach, California were unable to attend.



Fillmore County News
Exeter, Nebraska
April 24, 1952

---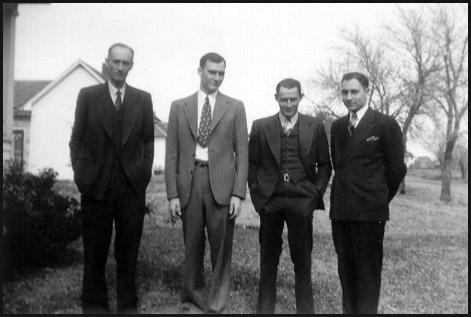 Sons of August and Anna Barkmeier
Left to Right: Louis, Vincent, Walter and Raymond
circa 1940
---