Anna Marie Barkmeier, the daughter of Frederick John and Mary Catharine (Tepe) Barkmeier, was born January 7, 1879 in Westendorf, Germany. She immigrated to the United States with her parents and brothers and settled near the village of Exeter, Nebraska. The family initially lived northwest of Exeter with the family of Henry and Mary Wiszmann.
She married Frank Ekeler on April 26, 1898 in Exeter, Nebraska. He was born in Krukum, Germany on January 28, 1871. He was the oldest son of Wilhelm and Maria Ekeler and was named Franz Ekeler. He had a younger brother named Heinrich Ekeler. His application for immigration to the United States was granted March 23, 1887 at the Melle Town Hall. After arriving in America, he changed his name to Frank. He initially lived near the village of Exeter, Nebraska with Mr. and Mrs. Henry Allewelt.
A 1905 plat map of the Exeter Township in Fillmore County, Nebraska shows that Frank and Anna Marie owned a 80 acre farm southeast of Exeter. George Barkmeier, Anna Marie's brother, bought the farm before 1910. Frank and Anna Marie then purchased a farm west and north of Exeter in the Fairmont Township. The farm was located near the farm of her parents, Fred and Mary Barkmeier. Frank and Anna Marie had ten children, all boys. Their children were John, born April 17, 1899; Frank Jr., born April 1, 1902; Henry, born October 11, 1904; Joseph, born April 14, 1909; August, born April 29, 1910; Louis and William, born October 22, 1912; Fredrick, born September 30, 1915; Leo, born April 11, 1918; and Alfred, born January 11, 1922
Frank died on September 9, 1952 and Anna Marie died on April 28, 1973 at the age of 94 years. Frank and Anna Marie are buried in the Exeter Cemetery in Exeter, Nebraska.
---
Family of Frank and Anna Marie (Barkmeier) Ekeler
1928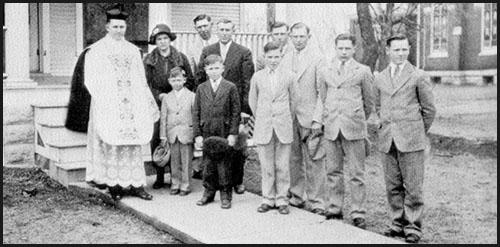 Back Row - Left to Right:
Father John, Mrs. Frank Ekeker, Sr., Frank Jr., Frank Sr., Henry, Joseph, Louis and William (twins)
Front Row:
Alfred, Leo and Fred
Father John Ekeler's first Mass as a priest was celebrated
in the Catholic Rectory in Exeter, Nebraska

---