Frederick John (Johann Friedrich) Barkmeyer/Barkmeier, the son of Franz Carl and Maria Catharina (Schulte) Barkmeyer/Barkmeier, was born in Westendorf, Germany on December 1, 1842. Westendorf is a small settlement approximately 2 kilometers from Riemsloh, Germany. He married Mary Catharine Tepe in the Catholic Parish of Riemsloh on September 25, 1863. Mary Catharine (Maria Catharina), the daughter of Johann Heinrich and Maria Elisabeth (Schnitker) Tepe, was born in Krukum, Germany on January 7, 1846. Krukum is a small farming area approximately one kilometer from Riemsloh.
Their eight children were born in Westendorf, Germany and baptized in the Catholic Parish of Riemsloh, Germany. Frederick John and Mary Catharine (Tepe) Barkmeier immigrated to America from Germany in 1889 with their sons, George, Henry, August Frank, John Ferdinand, William Frederick, Frederick August and daughter, Anna Marie. Their oldest child, Frank Ferdinand, immigrated to the United in 1887 and worked to help provide funds for the other family members to immigrate in 1889.
| | | |
| --- | --- | --- |
| Children | Birth Date | Baptismal Date |
| Frank Ferdinand Barkmeier | February 26, 1867 | February 27, 1867 |
| Henry Mathias Barkmeier | February 28, 1870 | March 2, 1870 |
| George Henry Barkmeier | March 23, 1873 | March 25, 1873 |
| August Frank Barkmeier | March 1, 1876 | March 2, 1876 |
| Anna Marie Barkmeier | January 7, 1879 | January 10, 1879 |
| John Ferdinand Barkmeier | May 4, 1881 | May 7, 1881 |
| William Frederick Barkmeier | March 27, 1884 | March 28 1884 |
| Frederick August Barkmeier | August 26, 1887 | August 28, 1887 |
---

Following immigration to the United States, the Barkmeier family settled near the village of Exeter, Nebraska. They later purchased a 160 acre farm in the Fairmont Township in Fillmore County northwest of Exeter. The family also raised Victoria Geyger who came to Exeter on an orphan train from New York City on September 4, 1901. She became a nun, Sister Mary Raphael Geyger, and celebrated her Silver Jubilee on August 15, 1962.
The other members of the family stayed in the Exeter, Nebraska area and married, except Frank "Franz" Ferdinand Barkmeier who was not married:
| | |
| --- | --- |
| Children | Spouse |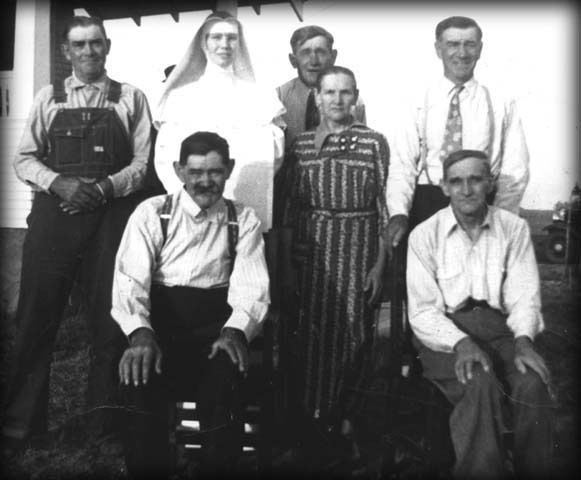 Standing - Left to Right:
John Ferdinand Barkmeier, Sr. Mary Raphael Geyger, William "Bill" Frederick Barkmeier,
Anna Marie (Barkmeier) Ekeler and Frederick August Barkmeier
Seated - Left to Right
Henry "Hank" Mathias Barkmeier and August Frank Barkmeier
circa 1937

---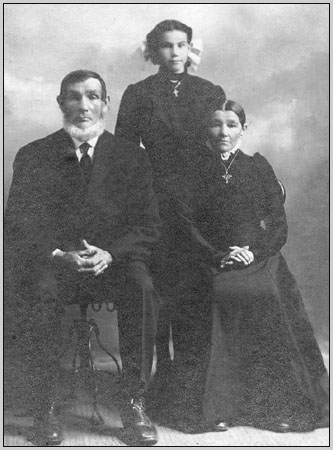 Fred & Mary Barkmeier with Victoria Geyger
circa 1910

Frederick John Barkmeier died in Exeter, Nebraska on March 18, 1916 and Mary Catharine (Tepe) Barkmeier died in Exeter on November 27, 1935. Interment was in the Exeter Cemetery.

---
Fred & Mary Barkmeier provided support for the construction of St. Stephen's Catholic Church in Exeter, Nebraska. The church construction started in 1901 and the new building was dedicated in 1903. A stained glass window with their names is located in the sanctuary. The stained glass windows in the church were restored in 1998.
The stained glass window is located above the altar and to the right in the sanctuary.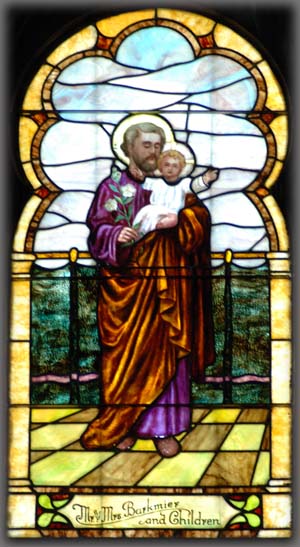 From:
The Windows of St. Stephen's
Parish Historical Committee
December 1998
St. Joseph
Joseph, as foster father, holds the child Jesus. Joseph is the patron saint of carpenters.
Symbol: The lily of St. Joseph
Legend says that according to Jewish custom, Joseph chose Mary as his betrothed from an assembled group of eligible maidens. When he made his choice, the staff he was carrying turned into a lily. Artists often use the lily as a symbol to identify Joseph.

---